It's Back Home . . . And Working!
I thought that I had the website working this morning, but then discovered a problem when I turned on the SSL certificate. But I was able to get than fixed in just a few minutes after I got to the office.
And within about an hour we had orders coming in. You can take a look here.
About 11am I got a call from Mike's Auto Repair with some good news. The problem with our Dodge Dakota was, as I had hoped, just a cracked water pump, and not something more serious, like a cracked block.
And the even better news was that the cost would only be $280, and it would be ready this afternoon. I was very happy with this since the last time I had the water pump replace, in 2013 while we were gate guarding, it was almost $500.
And as soon as I heard back from them around 3pm, I put in a call to Enterprise letting them know that I would be bringing our Tucson back this afternoon.
The only regret about this is that I just filled it up yesterday, thinking I'd probably have until at least the weekend, especially since it was at about 1/8 tank when I picked it up. But unfortunately they don't give rebates on the gas in the tank.
Jan was ready to go when I got home at 4, so we drove over to Mike's to pick up the truck. It runs nice and cool, but kind of rough. But I expected this since when the battery died while we were gone on vacation, it clears the engine computer settings. However,after I drive it for a few days, it should recalibrate and settle down.
I say, should. We'll see. But at least it's back home and working.
With me driving the truck and Jan following in the Tucson, our next stop was right down the road at the Red Dirt & Blue Jeans Café.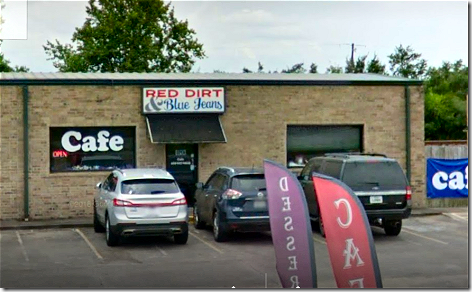 A pretty unassuming location in s small strip center, it's gotten really good reviews so we thought we give it a try. ]
Like Boudin Barn it's really small with only 4 tables, but they apparently do a lot of take out.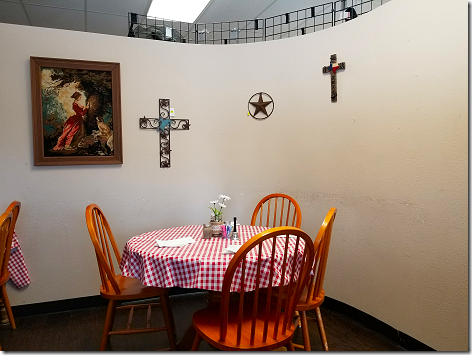 Jan and I both started out with a cup of really good Tomato Basil soup,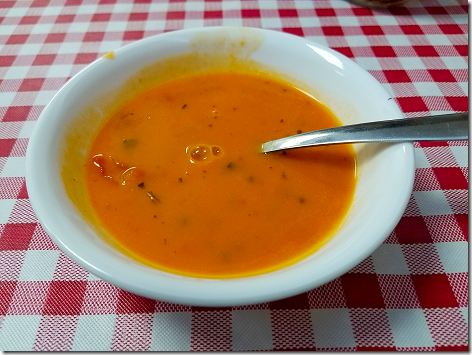 then Jan got the King Ranch Chicken, with Green Beans and Squash Casserole,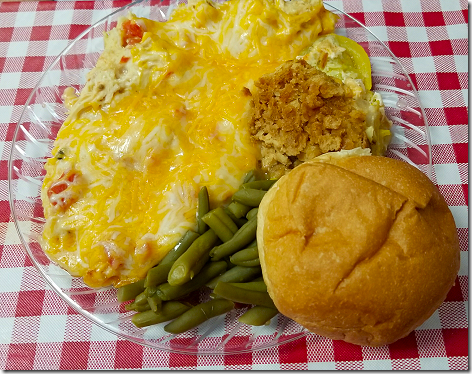 while I got the Andouille Sausage with Red Beans and Rice, with the same sides.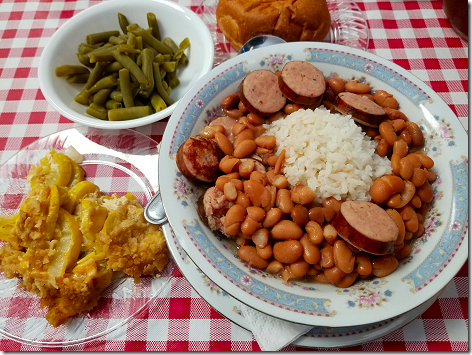 Both delicious, though Jan says that her King Ranch Chicken was a little better, since she uses corn tortillas, and Red Dirt uses flour.
One of the things that the reviews raved about was their homemade pies, especially the Triple Chocolate Meringue Pie, so we shared a piece.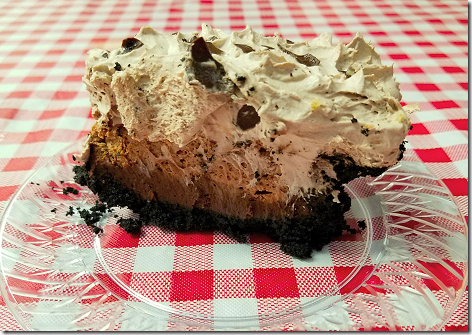 With our forks dueling over the last little piece, I think we both regretted the fact that we were sharing. It was that good.
Really, really good, and we'll go back.
Then it was on over to Dickinson to drop off our rent car, and then back home.]
Tomorrow Jan and I both have dermatologist's appointments, mine in the morning for a checkup on my Devil's Easy Bake Oven treatment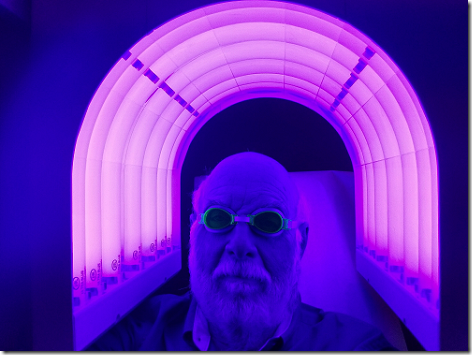 for the pre-pre-cancerous lesions on my bald head. And Jan's in the afternoon.
Which leaves Saturday for me to install the new brake pads on the truck before we drive up to Katy to meet up with Brandi, Lowell, and Landon on Sunday.
---

Thought for the Day:
A friend I hadn't seen in a while asked if i missed him.
"I sure did" I replied, and continued "I won't next time. I have a newer, better scope and I have that thing dialed in dead on"
Yikes!
adfd