An Old Project, Revisited . . .
Jan and I headed out about 1pm to first have lunch at Yummy Yummy, probably the best Chinese Buffet we've eaten at in our travels around the country. If not the best, certainly in the top three, or even two.
Then after a yummy meal we headed up to the Clear Lake area, first with a stop at the office to take care of a small problem that they called about this morning, and also to pick up my Disc Rotors that came in, along with my new lug nuts.
And once I picked one up it as easy to see why they were shipped in two separate packages, since they weigh almost 25 pounds each. Glad the shipping was free with Prime. And even with all that, at $84 for the set, they were $34 cheaper than I could purchase them for locally.
After a couple of more stops, we headed home, with a Costco stop for a fill-up. Nice to see gas was another 5¢ to $2.11 per gallon. Nice.
Long-time readers will remember my experimenting with making my own magnetic shades for our RV.
Years before I had purchased a set of RV Quick Shades while at one of Nick Russell's late, lamented Gypsy Gathering Rally's. They were held to the inside of the windshield and side windows with silicone suction cups.
They stayed up pretty well, but due to the height and backwards rake of our windshield, they were not easy to install. And due to the fact they were on the inside and not the outside, they still let a lot of heat in.
I always like the idea of the Magne Shades, but a set for our RV was over $1000.
Ouch.
So I decided somewhere along the line to make my own set. by converting my Quick Shades to magnetic ones. The problem was finding some magnets that would be strong enough. After a lot searching, I found some on Amazon that were about the diameter of a dime and about the thickness of 4 dimes. Like this.

I figured that I would use a bunch of smaller ones, across the top and bottom. And if worked . . . kind of. But after the first big wind/rainstorm pulled them off, it was obvious that I needed more magnets.
But when I went back to Amazon, I found they were no longer available. Turns out that the FTC/FDA had been cracking down on these small, very powerful magnets because small children would swallow them and then the magnets get stuck to each other in the child's intestine and problems, including death.
So I continued to use them occasionally, but finally gave it up as a lost cause
But recently I came across some magnets that looked like they would work.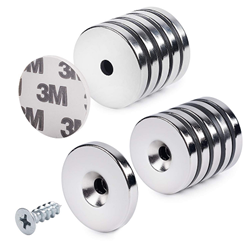 They're about the size of a half dollar, and very, very strong. Plus they have a recessed hole for a mounting bolt. So I stripped off the old magnets and then bolted the new magnets to the shades. Then I mounted the ones on the inside of the windows using clear Gorilla tape.
And this is the result.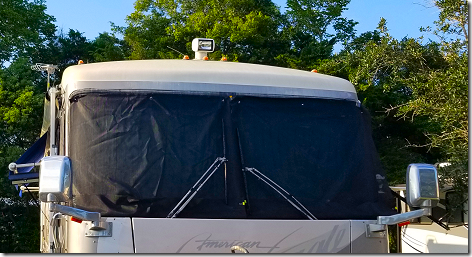 But on the door window, I did use the old shade and the silicone suction cups to mount the old Quick Shade, but mounted on the outside.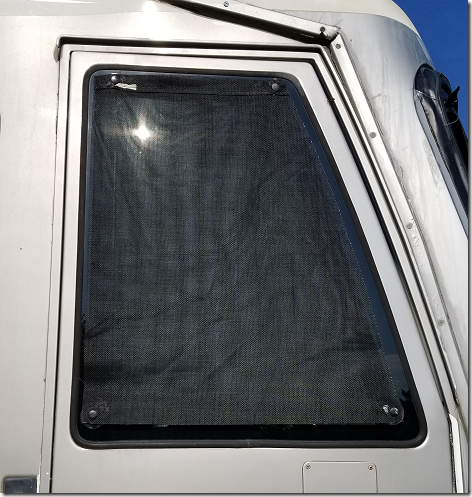 And boy do they work. Where the rig AC would normally run all day recently, it now cycles on and off, and that will hopefully save us money on our power bill.
Plus we had a really heavy rainstorm last night, and all the shades stayed put.
Success!
---
Thought for the Day:
"Success consists of going from failure to failure without loss of enthusiasm." – Winston Churchill
as