Daily Archives:
November 2, 2019
The weather today, sunny and about 66°, was perfect for crawling under the rig and installing my new oil filter adapter and filter.

But before I went outside I prepared the adapter and the gasket by first putting a thin line of Permatex Ultra Black Gasket Maker on one side and sticking it to the adapter. Then I did a thin line on the other side.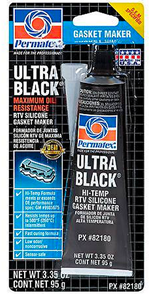 Since the Permatex was recommended by both my son Chris, and the Cummins tech, I figured it would do the job.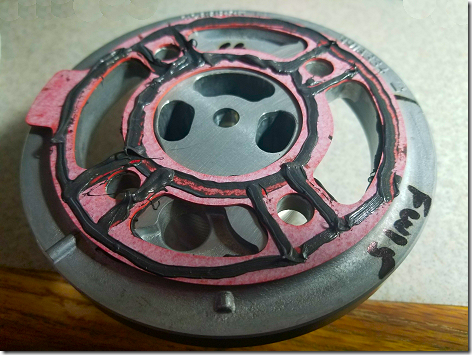 After putting together every 3//8" extension I own, I had enough reach to install the adapter.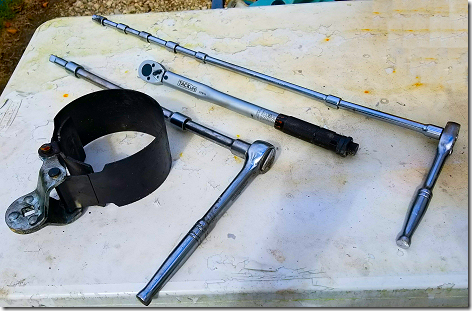 I also had out my torque wrench, my oil filter wrench, and the 1/2" drive for it.

Once under the rig I placed the bolt in the 10mm socket at the end of the extensions, placed the adapter over the bolt, and pushed it up in place. The adapter bolts are actually keyed so it will only fit in one position. This is so the filter ins and outs all line up.

Then I installed the other 3 bolts, tightening them down in sequence. Then setting my torque wrench to the 17.5 ft⋅lbs specified, I finished up the sequence.

Then I filled the new filter with oil, and once back under the rig, I lifted it and after a couple of tries, got it started and screwed down hand-tight. I didn't have as much problem as last time, since I figured out that the adapter is canted slightly so it doesn't screw straight on.

Next, using the filter wrench and drive, I turned it an additional 3/4 turn per the specs, and I was done.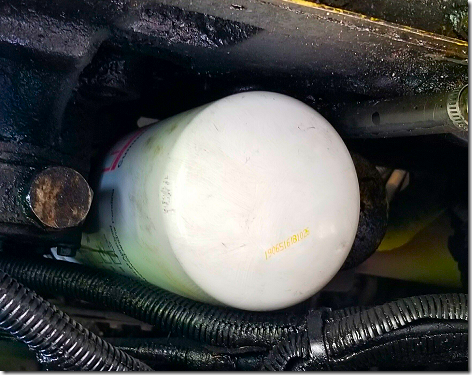 Getting back inside, I cranked up and let it run while I went back outside to check for any leaks. After waiting a few minutes with no leaks, I went back inside and punched it to High Idle (950 rpm) and let it run for about 30 minutes. Again with no leaks seen.

So Now We Wait.

We've learned before that a test drive without towing the truck never seems to leak. So we'll wait until we head up to Kingsland on the 14th. Then we'll know for sure.

Next up, taking another look at my Onan generator problem. We won't need it for our trip to Kingsland, but we will for our Alabama/Florida trip next June.

Dinner tonight was at Los Ramirez Mexican Restaurant once again. Delicious as usual.

---
Thought For The Day:
"Get it all on record now — get the films — get the witnesses — because somewhere down the track of history some bastard will get up and say that this never happened." – Dwight D. Eisenhower 1945
And now this.
Florida High School Principal Who Refused To Say That The Holocaust Was A 'Factual Event Has Been Fired'
ghj