Daily Archives:
November 19, 2019
Well, maybe a little.
Earlier, about 8:30 Jan and I had gone down to have the free breakfast which turned out to be pretty good. Then we just lounged around the room for the rest of the day, which was really nice for a change. While Jan read her Kindles (she has 4, 2 Paperwhites and 2 Fires, with one or two always charging.),
Since we had to either check-out or re-up by noon here at the Luling La Quinta, I put in a call to Dix's Diesel Center about 11:45 to see if there was any news. I was told that they were working on it, but that's all they knew. Which was about what I expected this early.
When I called down to re-up, I was told that since I had reserved our room through Trivago and Booking.com, I would need to come by the front desk and fill out new paper work, so I told them I'd come by on our way out to dinner around 4pm.
When I did go by, I was surprised to find a big difference in the price of our room. When I went through Trivago, 4 or 5 services, including Booking.com, listed our King room for $79 a night. I went with Booking since I had used them before.
When we checked in yesterday, the total, including about $10 for taxes, was $89. But when we re-upped today, the room was only $80.35, $9 cheaper.
So what's up with that? I thought Trivago et.al. were supposed to be cheaper, not more expensive. More research is needed on this, so I'll ask the front desk tomorrow.
On our way to dinner, we stopped off at Dix's to pick up a few things from the rig and check in at the office. While in the rig, I was happy to see that our Dometic refrigerator was still refrigerating along just fine on propane. And since they're working on it out in the yard, there's no way to plug it in anyway.
When I checked with the office, they said they were waiting for parts, but that the mechanic had to go help his wife who was stranded when she broke down. But looking at what they had pulled off the engine, I'm assuming it was a new air compressor they're waiting on. They didn't know if anyone had looked at the oil leak problem yet, so I reiterated that I did want it looked at even after the air compressor was fixed.
After we got home I Googled air compressor prices, and though it was hard to tell exactly which one I needed (I call Cummins tomorrow), it looks like the price should be between $600-800, about what I expected. But of course there'll be labor on top of that.
Karma is really enjoying herself and spends most of the day laying dead center in the middle of the king size bed.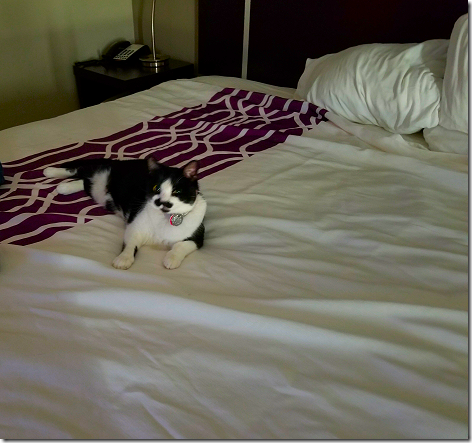 She may not want to go back to the rig after this.
---