Daily Archives:
November 29, 2019
As you know, Jan has been at our daughter Brandi's up in Katy since last Sunday. For the first part, until Wednesday, she was Landon-sitting while he was out of school for the week. And now since Brandi, Lowell, and Landon went up to Cleburne, TX to have Thanksgiving with friends, she's been Kitty, Baxter, Jack, and Moshi-sitting, while I'm back at the rig in Santa Fe. But of course we couldn't miss out on Thanksgiving together so I drove up to Brandi's Thursday morning so we could have Turkey Day Dinner at the Katy Cracker Barrel.
We got there early, about 10:30, and I dropped Jan off at the front while I went and found a parking spot in the back. I figured we'd probably have long wait since pretty much all of the front porch rockers were occupied and there was a lot of people milling around.
By the time I got back to the front, Jan was just getting to the front of the line to check in. When we were told 15 minutes, Jan asked again because she was sure the young must have said 50 minutes. But she said 15 again as she entered our info on her iPad.
But then just as we turned around to go back outside, we heard, "White, party of 2". And it was the us Whites, too.
And the kitchen was really pumping out the food, because we had our plates in only about 10 minutes.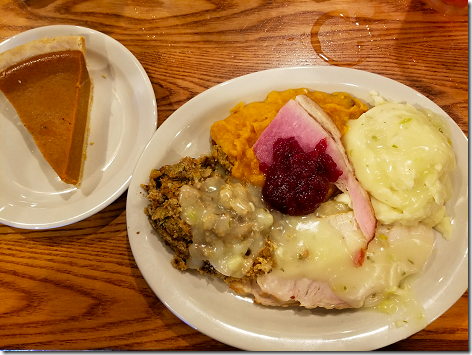 It was as delicious as usual, with of course, the only 'real dressing'. In case you're wondering, that's Cornbread Dressing. And Cracker Barrel's version is so good we occasionally get a couple of pans of it on other holiday's
We were full and done in less than a hour. And it was only $12.99, and that included our drink and dessert. And no dishes to clean up, either.
Brandi and Lowell managed to get their Christmas trees up before they left, though they're not decorated yet. In fact Jan says that there are 8 big tubs of decorations stacked around.
And I did mean 'trees' plural.
There's the big 16' foot version in the living room,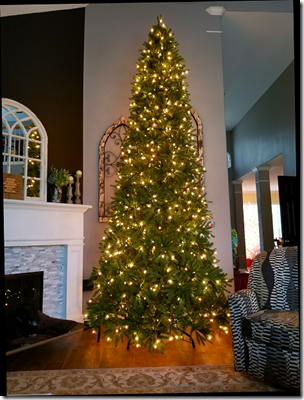 and the smaller, white one in the dining room.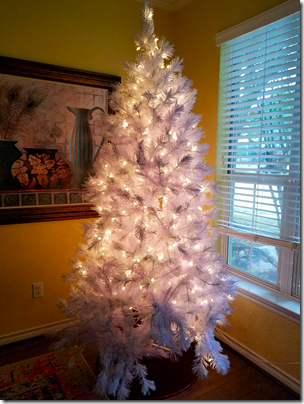 Quite a setup.
I've gotten a LOT of comments, emails, and suggestions concerning my continuing oil leak problems. Too many to really answer them separately.
Right now I'm thinking over how to proceed from here, and I've got a couple of new ideas that I'll go over with you, probably in tomorrow's blog. And I'll also try to answer everyone's questions then too.

---
Thought For The Day:
"A Little Knowledge Is A Dangerous Thing.
So Is A Lot." – Albert Einstein
asdfdf