Daily Archives:
November 5, 2019
Jan and I were just talking today and realized how much we have going on in the next few weeks. It's like time is compression into shorter and shorter moments.
In a little over a week, on the 14th, we're heading up to Kingsland for a big family get-together for the long weekend. So we've got a lot to do to get the rig ready to roll. Especially important since we haven't taken a trip since last April when we went up to Kingsland right before our European jaunt.
The following Saturday, the 16th, Jan's doing a local Home Tour with Jennifer, my client's Office Manager. And then the next day, Sunday, she'll going up to Katy to Landon-sit while he's out of school for Thanksgiving. But she'll stay over until the next Sunday, the 1st so she can dog-sit for Brandi while they're up in Cleburne TX for Thanksgiving with some friends.
I'll go up on Thursday so Jan and I can out to Cracker Barrel for Thanksgiving dinner. After she comes home on Sunday, we'll be leaving on Thursday for our long weekend up in New York for our Christmas trip.
This afternoon I tried to book our limo ride up to Hobby Airport and then our ride home. But when I tried to enter our Southwest flight info, it came back as invalid. So I called Action Limo and they also said our flight numbers didn't come up.
And putting in a call to Chantelle Nugent, our favorite travel agent, and left her a message about the problem. She called back about 30 minutes later to confirm that sometime since the past August when we booked the trip, that SW had changed the flight numbers, and also the departure times. But only by a few minutes on the times.
Jan and I headed out about 1pm, first for brunch at Snooze, and then some errands. I wanted to sure that my laptop GPS was still functioning after the recent GPS day number problem. So I took my laptop with us, running in the backseat and tracking us.
I was concerned if my ancient Earthmate GPS module would still work.
And even though it was 12 years old, it worked fine.
I've had it since 2007 when we used it on our first RV trip in a CruiseAmerica Class C rental.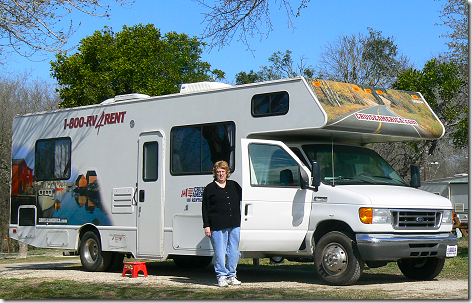 These 3 weeks out west, including attending one of the late-lamented Life On Wheels seminars in Tucson, are what told us that we wanted to full-time RV. This is also where we first met our friend's, Nick and Terry Russell.
And about a year later we were on our way to Alaska in our American Eagle Class A and starting a new life.
---
Thought For The Day:
Dear Life,
When I said "Can this day get any worse?", it was a rhetorical question, not a challenge.
dghdg