Daily Archives:
November 25, 2019
I checked in with Dix Diesel Center about 10 this morning and was told that the gaskets would be in about 1pm, and that it shouldn't take too long to get them installed.
FWIW I still don't yet know where these gaskets go, but I definitely want to find out before I leave.
But when I checked back in about 4pm, I was told the gaskets had come in, but the mechanic was working on another job and hadn't gotten to our rig yet. The dispatcher said he might be able to get to the job later in the afternoon.
When I was pretty adamant that I did not want to spend Thanksgiving waiting for our rig to get repaired, he said he would do his best to push it up in the queue, and to check with him about 8:30 tomorrow morning and see how things are going.
I plan on going ahead and checking out of the hotel and just wait around at Dix, hoping I can be annoying enough to encourage them to get it fixed and get me on the road out of their hair.
We've enjoyed our stay here at the Luling LaQuinta, nice rooms, friendly staff, 24 hour coffee in the lobby, and a good free breakfast. However I do have to question their Free Ultra Fast Internet.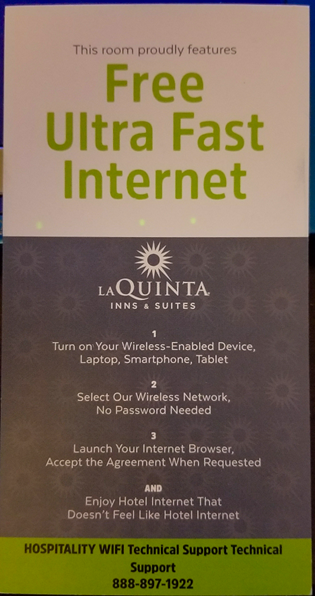 Well, I guess the 'Free' part s correct, but I have big questions about the 'Ultra Fast' part. But after repeated tests using Speedtest.net, the fastest connection I've seen was 1.07 Mbps, with some as low as 0.96 Mbps.
But when I brought my Verizon MiFi back to our room from the rig, I'm getting between 17 and 20 Mbps.
So does that mean my MiFi is 'Ultra Ultra Ultra Fast'?
---
Thought for the Day:
Prince Andrew did not kill himself.
adfs