Daily Archives:
November 12, 2019
With a full schedule of errands Jan and I were on our way up to Webster to have first have brunch at Snooze once again. One of our favorite places, and we go often enough so we're recognized every time.
Next up was a stop at the Webster Post Office for Christmas stamps. There was a line out the lobby door and only one clerk working. So it was a slow process, but it was sped up by the fact that several people got fed up and just left.
Then it was on up the Interstate for WalMart visit for a few things. I did get a slightly larger tarp to cover the truck windshield. I'm hoping that this won't be needed, since I really hoping that my oil leak is fixed. But it makes such a mess of the windshield that it's worth not taking a chance.
Next up was stop right across the street at the Sam's for fill up the truck. The price has been holding steady at $1.97 for a few weeks now. And probably will through the Thanksgiving travel days.
Our next stop was supposed to be me dropping Jan off the Friendswood SuperCuts to get her hair cut. Then I would go back down to Estrella's to get mine done. But her SuperCuts was closed for some reason, so she read in the truck while I got mine done.
After that we stopped off at the nearby Kroger to pick up some stuff for Chris and Linda. They don't have a Kroger near them in Kingsland so we always have a shopping list for them when we visit.
Finishing there we had planned to go right across the street to get the truck washed for the trip, but by then it was after 5pm and they were closed. Maybe tomorrow.
Finally heading back toward Santa Fe, Jan remembered a TGF Hair Salon right next to the HEB on FM646 so we stopped there so she could get her hair done.
And now she has a new favorite place for her to get her hair done. She really liked her cut, so she got the girl's card and she'll be going back.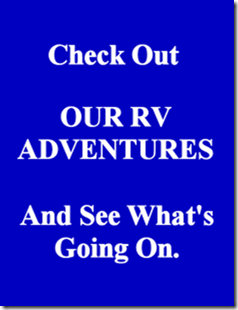 Tomorrow I'm going to take off a little early because I've still go a number of things I need to get done before we leave on Thursday morning.
And these are things I would normally be doing the morning before we leaving on a trip, like disconnecting us from sewer and water, letting in the awnings, picking up the leveler pads, etc.
But it's now supposed to be 40° and raining Thursday morning, so the more I can get done tomorrow night, the better. Hopefully all I'll have to do is disconnect power, pulling in the slide, pull out of the site, connect up the toad, and be on our way.
And to help that along, I did a trial run, pulling in the slide this morning, and it worked fine. So hopefully it'll still work Thursday morning.
But you never know with a 20 year old RV.
---
Thought For The Day:
"It ain't what you don't know that gets you into trouble. It's what you know for sure that just ain't so." – Mark Twain, maybe
asdf