Daily Archives:
November 3, 2019
I thought I'd get a jump on reservations on our Alabama/Florida RV trip next June so I so put in a call first to Luxury RV Park in Gulf Shores, just a few blocks off the beach. We stayed there a couple of times in the past and it's a nice park.
I started off by asking the lady if they were taking reservation yet for next June, and she chuckled and said, "Not only are we taking reservations, we're already booked for June and July."
So then it was on to our 2nd choice, Island Retreat RV Park up on Fort Morgan Rd. We've never stayed here, but have driven through it a couple of times and it's very nice. And only about 3 miles from the beach.
And lucky for us they did have a site for the 10 days we'll be there.
We're already booked at Poche's RV Park in Breaux Bridge LA going and coming back, so that's done.
But when I checked Seasons In The Sun RV Park in Mims FL where we stayed in October 2018, I found it was no longer a Passport America park. But checking the PPA app I found one, Crystal Lake RV Park, about 10 miles closer to Nick and Terry.
I left a message but I haven't heard back yet.
I know a lot of RV'ers say that Passport America is not worth the money, they can never get discounts at the parks they want and when they want.
And no, you're not going to get a PPA discount in Florida in the winter. But you can get one in June. The season seems to be November to April, at least at Crystal Lake, where we'll be paying $20/night for our 11 night stay instead of $40/night.
That's a savings of $220, and, along with a couple of more stops going and coming, we'll probably save about $300 over the entire trip. Not bad for a $45 a year membership.
Several readers said they tried to purchase the Foam Tablet Holder that I mentioned a few days ago and found it no longer available. This happens when someone buys a couple of containers of stuff from China, and when they're all sold they start over with something else.
One of our readers, Karen, said that WalMart has them for about $20, so you can try there.
This time of year we really enjoy our Touch of Class Heated Mattress Pad.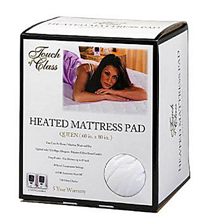 We got it from Sam's Club back in 2011 and it was a great buy. It's really nice to turn it on an hour or so before bedtime, and then crawl into a warm bed. Unfortunately I don't think ours is available anymore.
But I'm sure Amazon will have one you'll like.
---
Thought For The Day:
Worrying is like interest on a loan you don't owe. You don't owe it, so don't worry about it.
dgfg