Daily Archives:
November 24, 2019
After a late breakfast here at our La Quinta Inn, we headed back east on I-10 to meet Brandi, Lowell, and Landon at the Los Cabo Mexican Restaurant in Columbus for lunch.
They were taking Jan home with them so she can Landon-sit/pet-sit next week until I pick her up next Sunday. I will be coming to go out for Thanksgiving Dinner with her on Thursday, either from Santa Fe, or maybe even from here, I guess.
We've eaten here quite a few times, usually when we've been staying at the Colorado River Thousand Trails park just a few miles up SR71, and it's always been good.
And the portions are huge.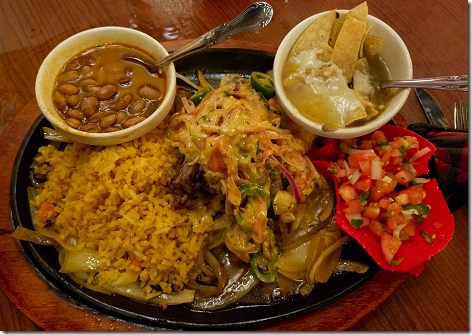 This is the Fajitas Mexicanas for ONE. There's a pile of beef underneath there. And I took home enough for two more meals.
This is Landon multitasking.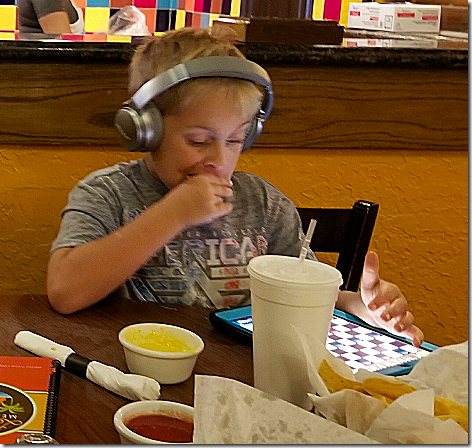 He's listening to music, playing checkers (and Winning) against an online opponent, AND eating chips and queso, all at the same time.
Multi-Talented too!
After getting my hugs and kisses in with everyone, I was back in Luling by about 2:15, with my first stop at the rig. I didn't expect anyone to be there (and they weren't ) but I wanted to double-check that the refrigerator was still ticking along, and it was, so that's one less worry, I guess.
Tomorrow, right after breakfast, I'll head on over to Dix's to try and get an idea on when the parts will be in and when I can possibly get on the road. If it's any time after 11 or 12, or so, I plan on spending the night a the nearby River Bend RV Park and leave out mid-morning on Tuesday, so I can avoid the going home traffic through Houston.
Of course I still could be here on Thanksgiving too.
I guess that Dix's doesn't like RV'ers very much. I notice that their Shop Rate for Trucks is $95 an hours, but it's $125 an hour for RV's.
I'm wondering if I can self-identify as a Truck, rather than an RV so I can save the $30 an hour. I don't see why not, since guys can now self-identify as girls so they can use the girl's restrooms and play on the girl's sport teams.
---
Thought for the Day:
Drink Plenty of Coffee: That Way You Can Do Stupid Things Much Faster And With More Energy.
adfa