Daily Archives:
November 20, 2019
Well, maybe. I don't really know for sure yet.
After breakfast I put in a call to the parts department at the Cummins shop in north Houston. As in the past when I called them, I just got a voicemail prompt and left a message. And when I didn't hear anything after 3 more tries, I decided to call the Cummins parts people out in Gillette, WY, a smaller shop where we've gotten parts several times in our past travels.
And this time I got right through to a nice young lady in the parts department who quickly gave me the 'Ouch!!' news.
A new air compressor for our Cummins 350 ISC is $1,297.44. As I said, OUCH!
A lot more than the $600-800 total that I found online yesterday. But then I don't really yet know for sure if they had to replace the air compressor anyway. I can only hope not.
When we went by Dix's this afternoon on our way out to dinner, I was told that they were still waiting on a new air dryer cartridge for the air system. Which should be in tomorrow I was told. So we'll see.
I was happy to see that our refrigerator was still chugging along and didn't need to be reset. Which means that Dix's hadn't turned off the Coach batteries during the repairs. Since if even they do turn them back on after they turn them off, the fridge has to be reset before it will restart on propane.
So hopefully it keeps on going.
After dinner this evening we scouted out a nearby RV park in case we need it. River Bend RV Park is just west of us at the next exit on I-10 and looks really nice.
This is my backup plan in case the rig is ready to go late in the afternoon. We don't want to drive back home that late in the day, so we'll just spend the night at River Bend until the next morning.
When we were up in Lockhart for dinner yesterday we took a detour past the beautiful Caldwell County Courthouse on the townsquare.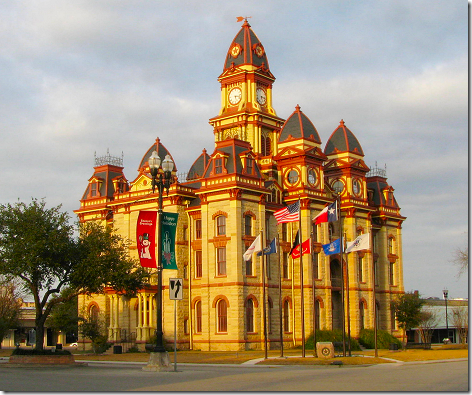 This historic building was constructed in 1894 to replace one that had been outgrown. Built from cream-colored limestone and red sandstone, it has a near identical twin in the Goliad County Courthouse since they were built from the same plans.
---
Thought for the Day:
I always wanted to be a procrastinator.
But I just never got around to it.
jkjh