Happy Gobble Gobble To All . . .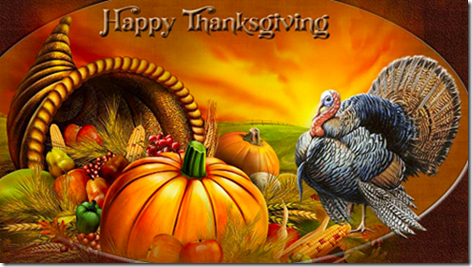 The incoming cold front (low of 70 last night, 46 tonight) brought rain with it, not heavy, but just a steady on and off drizzle. Bur it may be part of the reason that when we got to Cracker Barrel about 11, it was busy, but not overwhelmed.
So I dropped out Jan out front while I found a place to park. And since a lot of the clientele today was us old people, there were no handicapped spaces available, but I did find a space not too far from the door, and hobbled in.
And found Jan already seated, and we had our plates in about 15 minutes.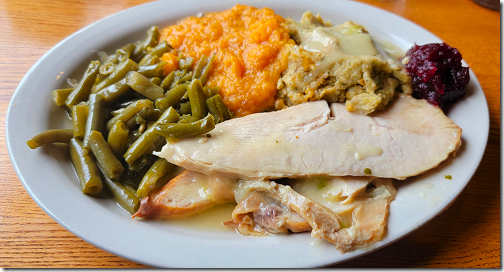 And it was just as delicious as always. And since it came with cornbread/biscuits, pumpkin pie, and a drink, all for $12.99, it was a great deal, too.
However, our plan to buy a couple of dinners to take home for leftovers was thwarted by the fact that we were now supposed to have ordered them ahead of time. But it still worked out because we had leftovers anyway.
And as we were leaving about an hour later, they were much, much busier.
We chose wisely.
Since we knew we were going to be eating kind of early, I didn't fix coffee this morning. So we were very happy to see Cowboy Coffee open for business when we went by about 10:45, thinking we could get coffee on the way home. But our hopes were dashed when we came back by about 12:15 and found them closed. Guess they were just open for people heading out to grandma's house for Thanksgiving.
Bummer!
Getting home, we make calls to both kiddo's, Brandi up in OK, and Chris over in Kingsland. Good to hear from both.
After that it was time for a post-turkey nap.
A really nice day.
Hopefully yours was as nice as ours.

---
Thought For The Day:
Brandi found this T-Shirt while visiting up in OK.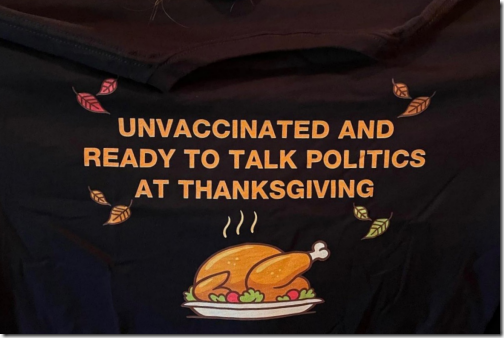 .