Monthly Archives:
November 2021
We were rudely awakened this morning (well, I was. Jan was already up.) about 8:30 when the power went off. When it didn't come back on in a few minutes I checked the CenterPoint Energy Outage Tracker website and found it was out all over our area, almost 12,000 homes.
But it came back on about 45 minutes later so we had heat again. Better than the freeze last February when it was off for 4 days.
Since we had decided that this was just going to be a Stay-At-Home Sunday, that's what we did. We stayed at home, talked, read, napped, TV'ed, renapped, etc.
Then around 4pm, we polished off our Cracker Barrel Thanksgiving leftovers, finishing up with Pumpkin Pie. Just about as good as on Thursday.
I mentioned about Bone Growth Stimulator treatment I do for 30 minutes every morning. It's completely silent with no indication that it's even working, except for the one beep when it starts and the two beeps when it's done.
So, in my paranoia, I'm wondering, is it even working. Maybe I got a defective one. The only way I would know I guess, was if in 6 months, my head fell off because the bones never fused.
So, not wanting that to happen, I dug out my old EMF (ElectroMagnetic Field) meter, kind of like this one on Amazon,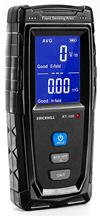 and I was relieved to find that my Stimulator was putting out a very strong EMF field. So my head is safe, I guess.
And according to the Amazon description, it can also be used for ghost detecting and hunting. Of course it's not as neat as the one Egon used in the Ghostbusters movie. You remember the one with the little arms that came up when a ghost was nearby.
I want one of those.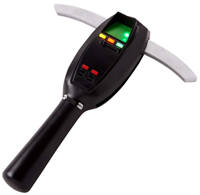 ---
Thought For The Day:
Every bad thing that happened today was a direct result of choosing to get out of bed this morning.
.
After I did my 30 minute Bone Graft treatment this morning, I got on the computer to get reservations for the rest of the shows we want to see when we are up in Branson week after next.
In fact, two weeks from tonight we'll be overnighting in Texarkana , the halfway point on the way to Branson. We'll have Monday through Friday there, and then head home on Saturday with another overnight in Texarkana before getting home on Sunday.
Really looking forward to it.
About 12:30 we headed out for lunch at Gator's once again. While Jan went with her Strawberry Walnut Salad with Grilled Chicken,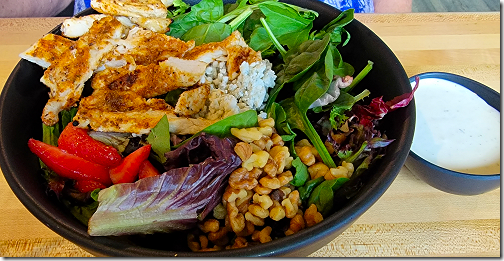 I tried something new, the Egg In The Hole Bagel, pretty much a BLT on a bagel, with an Over Easy Egg in the bagel hole.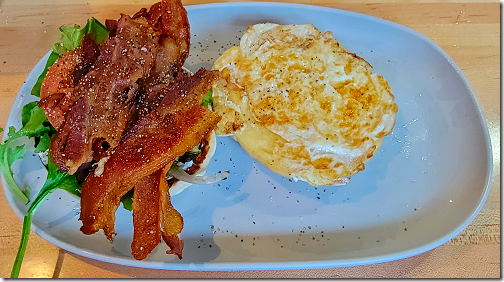 Really good. In fact, have again good.
And then we each had one of their fantastic Keto Blueberry Muffins, heated, with some butter.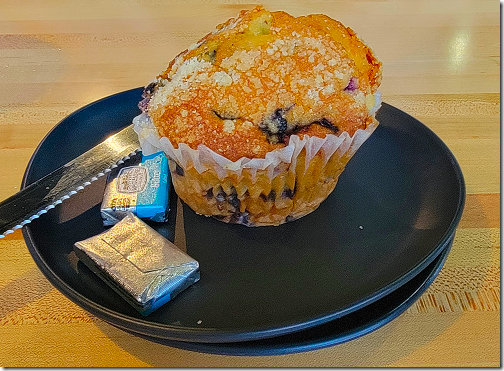 Again, delicious.
Then it was on up the Interstate a bit to the Costcutters by HEB so Jan could get her hair done. And while she was doing that I filled up at the HEB pumps.
All I can say, it's been a long time since I've paid $50+ for a tank of gas, $57 to be exact. Now it was the Dakota, and it does have a 25 gallon tank, and I did put 20 gallons in it, but still.
On the subject of the Dakota, we're driving it this week because our Jeep's in the shop getting a couple things checked out before our Branson trip. So it was interesting to see that yesterday the odometer rolled over to 308,000 miles.
Now, as I've mentioned, it's been a V7 for about the last 15,000 miles when the #7 cylinder died, dropping to about 25# compression, rather than the usual 125#. But it cranks up every time, and will still do 70-75 on the Interstate.
Of course, it does smoke, blue smoke out the exhaust. But I've been thinking about getting one of those magnetic signs made for the door that says, "Harris County Mosquito Abatement Program."
That ought to cover it.
Looks like tomorrow will be a stay-at-home Sunday, finishing off our Cracker Barrel Turkey Day leftovers.

---
Thought For The Day:

I'm going to be vey busy in the Afterlife. The list of people I want to haunt grows larger everyday.
.