Daily Archives:
April 3, 2019
Following up on yesterday's blog, after our lunch at Katz's Deli, and stocking up on hot stuff at iBurn, we got to the Houston Museum of Fine Arts about 1pm for our much-anticipated visit to their Van Gogh, His Life In Art exhibit.
We picked up our pre-paid tickets at the Will Call desk and joined the small crowd entering the hall. 'Small' is the reason we went on a Tuesday, and it worked.
First up was one of his most famous works, 'Sunflowers', though in this case, it was a reproduction.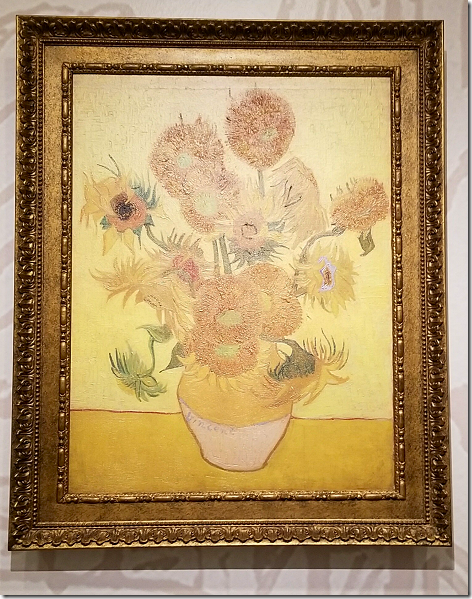 This is probably the prime example of Van Gogh's Yellow Period, painted when he was staying in the Yellow House in Arles, France, along with then-friend, Paul Gauguin.
Next up was another reproduction, 'Undergrowth'.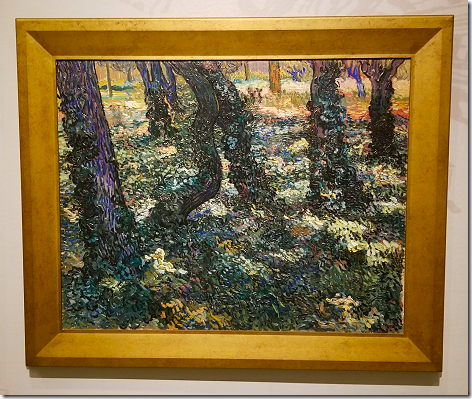 'Undergrowth' is a prime example of Van Gogh 'Pointillism' phase. Pointillism is a method of painting using small dots (points) of paint, rather than stroked with a brush.
Van Gogh later incorporated this style as well as several others, combining them to come up with own style.
Another famous work, and another reproduction, is his 'Blossoming Almond Tree'.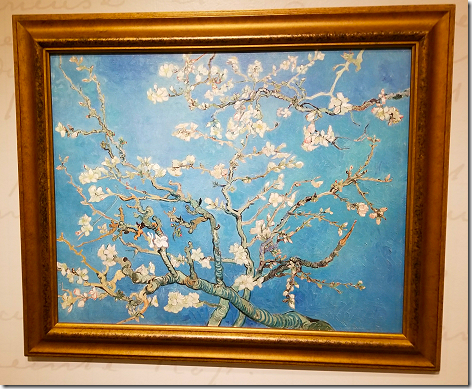 Earlier Van Gogh had become fascinated with Japanese styles of painting with 'Blossoming Almond Tree' one of the results.
Next up, and the last reproduction in the exhibit is 'The Potato Eaters'.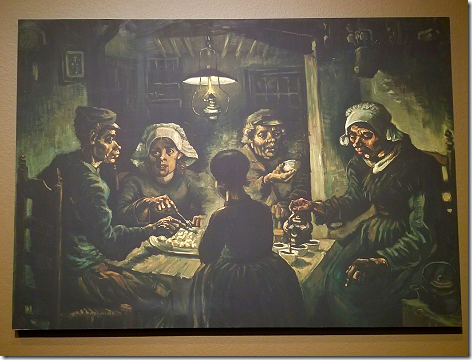 Considered his first true masterpiece, it was painted in his native Netherlands, before he moved to France. He was intrigued with the faces and figures of the farm families and workers in the Dutch countryside, and painted many scenes of the area.
The dark lighting and gaunt faces held his interest through many paintings.
Van Gogh painted more than 30 self portraits during his career and this is one of the most famous.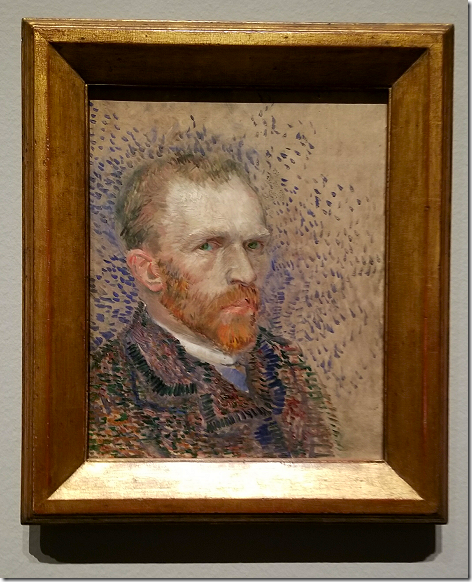 And also the real thing, on load from the Van Gogh Museum in Amsterdam, a place we hope to visit next month.
One of my favorites, this next work, painted only about a month before his death in July 1890, shows off his combination of styles.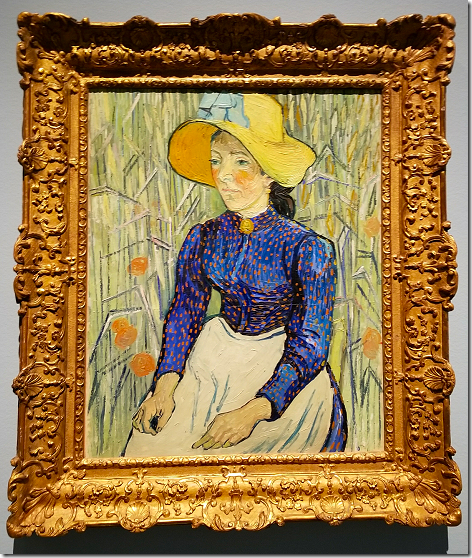 'Portrait of A Girl In A Straw Hat' with its bright colors and tight composition. His muted and almost impressionistic background makes the figure of the girl stand out from the canvas, almost in 3D.
'Irises', also painted only a couple of months before his death, combined several of his favorites, irises, Japanese style, and his favorite color, yellow.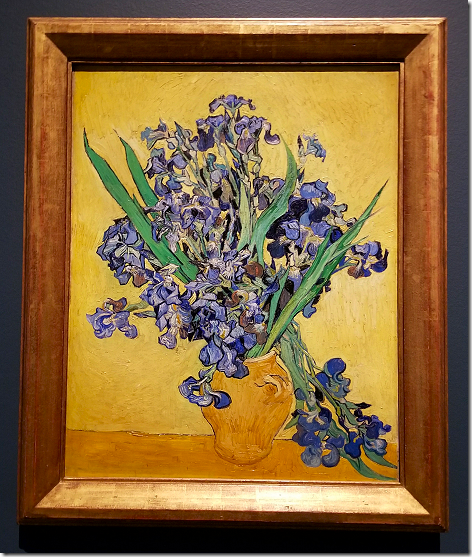 Fittingly, the last 'painting' on the tour was actually his very last work. 'Wheatfield with Crows'.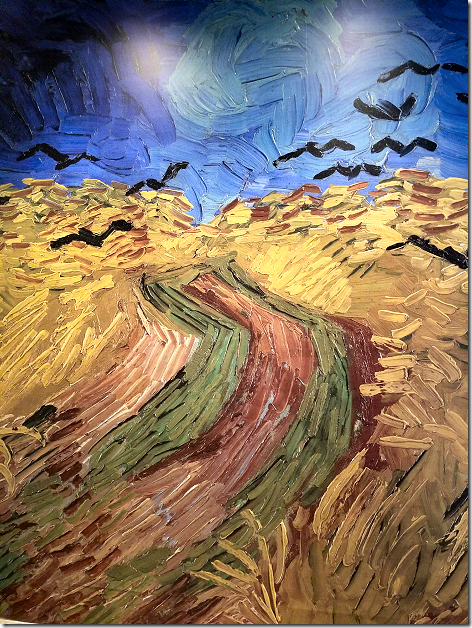 I said 'painting' because it was actually a photo-reproduction, blown up to about 10' x 12' and mounted on the wall as you leave the exhibit. The size allows you to see how he took Pointillism and then elongated the points, using slashes of paint that capture your eye, and at the same time, blend into a complete picture.
However the wall was not big enough to show the entire painting, so here it is below.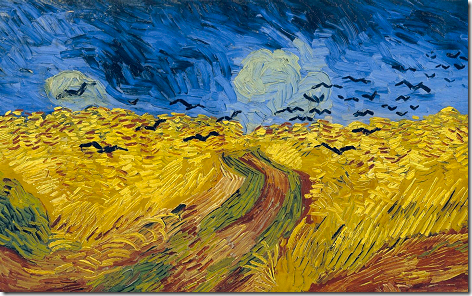 On July 27, 1890, at age 37, Van Gogh shot himself in the chest with a 7mm revolver, and died 2 days later, not from the actual gunshot, but from the infection that set in due to a surgeon not being available to remove the bullet and treat the wound.
In fact if he had been treated he very possibly would have survived since there was no obvious internal organ damage and he was able to walk back to his room after he shot himself. He was sitting up, smoking his pipe, and in good spirits, when his brother Theo arrived the next day. But then quickly went downhill, dying on July 30th. According to his brother, Theo, his last words were, "The sadness will last forever."
I've just given you the highlights here, but there were many more paintings in the exhibit, showing the evolution of his style.
One thing I didn't know, or may have forgotten from my art classes, was that Van Gogh was not a 'natural' painter. It was not something 'he always wanted to do.'
After failing at a number of other occupations, one day he just 'decided' he wanted to be a painter. So he started off copying drawings and paintings from books, and even took some lessons at an art school.
But I guess there had to be some real talent buried in there somewhere.
The Van Gogh exhibit is here in Houston until June 27th before it moves on around the country.
Well Recommended. See it if you can.
---
Thought for the Day: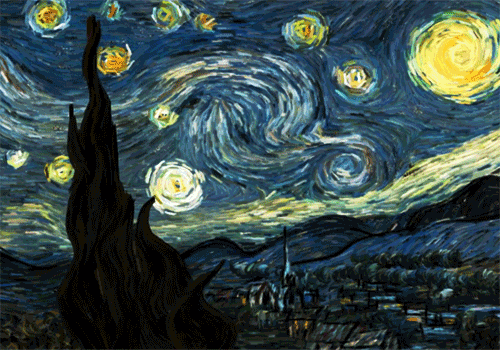 hjfh