Daily Archives:
April 16, 2019
I spent the morning on and off making changes via email for the new ad card for our upcoming May sale, which we didn't find out about until this past Friday. So it was a rush to get it down ASAP to get it out for May, and also to get it down before I leave town.
Also talked to Chantelle Nugent, our travel agent, about what we needed as far as luggage tags, passport wallets, etc. Turns out that she has included all that in our box of documents that goes in the mail today, and we should have it Friday.
Jan and I headed out about 1pm with our first stop at the Cheddar's in Webster for lunch. Then it was on by my clients to pick up a bunch of Amazon stuff that had come in.
We had also planned to have my client and the office manager witness our wills, but it looks like we will still need a Notary, so I may just have it done at the bank on Thursday.
Then it was on over to WalMart to stock on B. C. stuff, and a few things to take with us. Last it was by the dry cleaners to pick my blazer and Jan's pashmina for the trip, and then we headed home.
But 'headed' is all it was. Although I can't see exactly what's happened It looks like we have a leak in a bottom radiator hose on the truck. I tried to limp it home, but finally decided to just call our roadside assistance and get a tow home.
Getting home and thinking it over, I decided that this was a straw/camel situation. With both the radiator problem and also needing a disc brake pad replacement, I just don't have time to fix both. So I'm renting a car from Enterprise starting tomorrow and then I'll drop it off Friday morning before we leave for Budapest.
Wrapping up, we saw this interesting cargo coming up the Interstate from Galveston, or maybe Texas City, last weekend.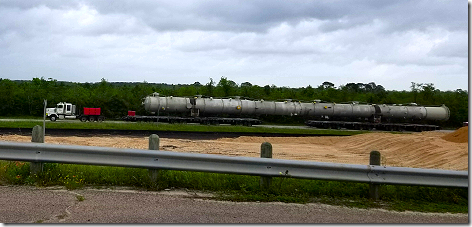 That's just one long, long trailer. Must be interesting on corners.
---
Thought for the Day:
"We could never learn to be brave and patient, if there were only joy in the world." — Helen Keller
jfhjh