Daily Archives:
April 14, 2019
I finished up my LegalZoom will this morning and then did one for Jan. And it really couldn't have been much easier. Of course, ours wasn't really very complicated to start with.
The LegalZoom system just leads you through filling out the information, kind of like TurboTax does, asking for more data depending oh how you answer the previous questions.
And as they advertise, it only took about 15 minutes. And Jan's was even quicker, since the system lets you create a 'mirror' will that just reverses the names of the spouses, leaving everything else, beneficiaries, etc., the same.
Jan's and my wills leave everything to each other, and then equally to our kids, with no special bequeaths. Just let them fight over it, since at that point we won't really care.
Both of them are named as co-executors, again so they can figure out how to divide up the spoils. And since we sold the house, there's no real property to worry about either.
My will, with digital download option, was $69, and $59 for Jan's, with a $10 discount for two wills. If you don't want to print them out yourself, for $9.95 they will send you 'professionally printed' copies for you to just sign. Not exactly sure what they mean by 'professionally printed'. Probably just some person taking it out of the laser printer and sticking in a envelope.
As far as signing the documents, you can either have your signatures notarized, usually at your bank, or witnessed by two adults who are not part of the will.
I did use their Live Chat feature to ask about residency, since Jan and I are actually South Dakota residences, but the wills will almost certainly be probated in Texas. And I was told that for simple wills like ours, it didn't make any difference, and to just put down Texas as our 'residence' since we spend pretty much all our time here.
Apparently every will is looked over by a human, since it was about 45 minutes after I paid before I got an email saying my documents were ready. And logging back in they gave me this list of 5 PDF files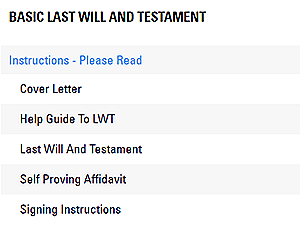 to download and get signed. But actually only two of them need to be witnessed and signed – the Self-Proving Affidavit and the Will itself.
The Self-Proving Affidavit is used to validate a will for probate to prevent the witnesses from having to show up at the Probate hearing to testify that the will is genuine.
LegalZoom did also offer to add a Durable Power of Attorney and a Medical Power of Attorney to my package . . . for only $35 each. So $140 for both of us. That's more than the two wills cost, and these are just add-ons.
But if you don't want to pay that much, you can go here, PowerOfAttorney.com, and download your own valid forms . . . for free.
Durable Power of Attorney Form
Medical Power of Attorney Form
A little Googling showed that a simple will in Texas, done by a lawyer, can cost $300 to $1000, and that's for each of us. So $128 with LegalZoom is a real bargain.
Tomorrow it's back to work, trying to wrap any last minute items on my checklist, while I try to anticipate any new ones that might pop up while I'm gone.
Wish me luck.
---
Thought for the Day:
Opportunities multiply as they are seized.
ghgh