Daily Archives:
April 17, 2019
This morning I put in a call to the Enterprise office to schedule a pickup for 9:30 –10:30
Nirvana (her name) showed up about 10:20 to drive me back to the office in Dickinson. When I reserved the car last night, it said a 'Ford Fusion or Equivalent' so I was surprised to find that the Chevy Impala that I was picked up in was my rental car.
Neat!
When I last rented a vehicle last November while I was getting the transmission in our truck rebuilt, I had an Impala then too. And I was very impressed with it. Especially the pickup/acceleration.
The first time I was merging onto the Interstate I punched it and Woww!
I was suddenly doing 80!
Wheeeee!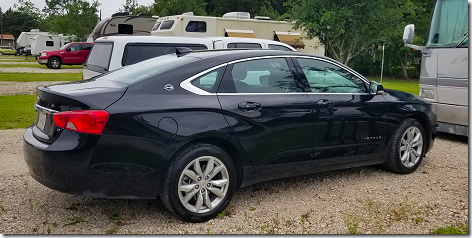 We'll keep it until either next Thursday afternoon or Friday morning before we leave. Our car service is supposed to be about 10:30am, so if I wait until then I'll have to drop it off early. But then it's not like we'll get much sleep Thursday night anyway.
I mentioned earlier that I was going to get a SIM card for my Verizon Galaxy S8+ for use on our European trip. But it turns out that I don't need one.
When I called Verizon a couple of weeks ago to see if my phone was unlocked so I could use a SIM card, I found that I could sign up for Verizon's TravelPass for free.
It gives me better access, cheaper rates, and higher data limits. So it looks like I'm good to go. I only have to configure my phone for WiFi Calling and set the Roaming conditions.
We attended the new Alvin Opry this past Friday and we'll be going again this weekend. But at a different location.
Turns out after only two shows, they outgrew the facilities and have moved right down the street to the American Legion Hall, with a larger venue and much better parking. Looking forward to more great shows when we get back from our trip.
I had mentioned a while back that I was going to get a VPN for our trip, and had decided on ExpressVPN. But several readers thought I should be using NordVPN.
I did do a lot of research on this, especially concerning it's use in Europe. So I thought I'd pass on this comparison that was part of my decision. ExpressVPN vs NordVPN
Tomorrow we're going to try and get our wills signed at one of our banks, and also get our pre-cruise haircuts. And probably lunch/breakfast in there somewhere.
Wrapping up, I've been using Runkeeper for several years, even upgrading to the paid version somewhere along the line. But recently it has been almost impossible to use.
Despite Google Maps and other location apps immediately getting a GPS lock, most of the time Runkeeper would keep telling me it didn't have a lock. And a little Googling showed a lot of other people having the same problem. And a lot of different solutions.
For some people turning the GPS off and back on, others uninstalled and reinstalled the program, etc. ,but none of these worked for me.
So finally I just deleted Runkeeper and installed MapMyWalk, another walking/running app. And for the last two weeks it has worked first time, every time, even tracking up inside WalMart and Sam's.
Well Recommended.
---
Thought for the Day:
Some people's compassion is limited only by the size of someone else's wallet.
fjhf