Daily Archives:
April 25, 2019
But Not Quite Yet.
I spent the morning trying to cram 4 suitcases of stuff into only 2. Or at least that's what it seems like.
But really we're doing OK, I guess. There's a 50# weight limit on our checked bags and 17# on our larger carry-on bags, and so far we're under those limits, but just barely.
In some cases it's a game of 'do I want to take this or do I want to take that', or 'which weighs more, this or that'. But whatever, we'll be ready to go tomorrow morning when our car service guy gets here at 10:30.
Jan and I headed out this afternoon about 1pm, with our first stop at King Food for some of their great Hot & Sour Soup, and then it on for a quick stop at my client's to double-check a couple of things before our trip.
Then heading home, Jan picked up a few things at Palais Royal, a local department store chain, finally getting back to the rig about 3:45.
But after getting the kid's will copies ready to be mailed off, I headed back out, first to the PO, and then over to Dickinson to return our Impala a little early, so we won't have to deal with it tomorrow morning.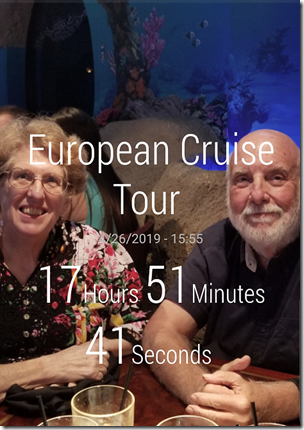 Our Lufthansa A380-800 leaves Houston Intercontinental at 3:55 with a 9 hour 45 minute flight to Frankfort, Germany, a 3 hour 30 minute layover, and then a 90 minute flight on to Budapest. This means that we will be getting into Budapest at 5:45am Saturday morning for us, but 1:45pm Budapest time, since they're 7 hours ahead of us.
Then I imagine we'll spend some time in our room napping and getting ourselves turned around to local time. The next day, Sunday, we have free to get acclimated before starting our cruise on Monday the 29th.
---
Thought for the Day:
Sometimes the good you do doesn't do you any good.
adfd