Daily Archives:
April 28, 2019
In preparing for our trip, I've been making checklists for months, I.e. what we're going to take, what we need to buy, what we need to do in the rig right before we leave, etc. And even checklists for what gets packed in carry-on and what gets packed in our checked bags.
However, what I didn't do was have an item on one of my many checklists that would remind me to grab up my computer bag, containing my laptop, tablet, and Kindle Fire, and my Panasonic Lumix camera that I was just going to carry with me.
So they're still sitting on the passenger seat in the rig, right where I can see them on one of my 3 Wyze security cams that I set up in the rig. And which is why this is the first blog I've posted since we left.
This morning after a fantastic (and free) breakfast at the hotel, we took a taxi over to the Mammut Mall. Mammut means 'Mammoth', and it is. And it even has one out front.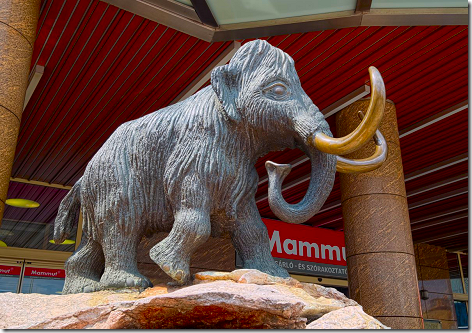 It's made up of two LARGE buildings on opposite sides of the street, and connected by a glass walkway on the 2nd level. And there are about six levels, including the large SPAR grocery store in the basement.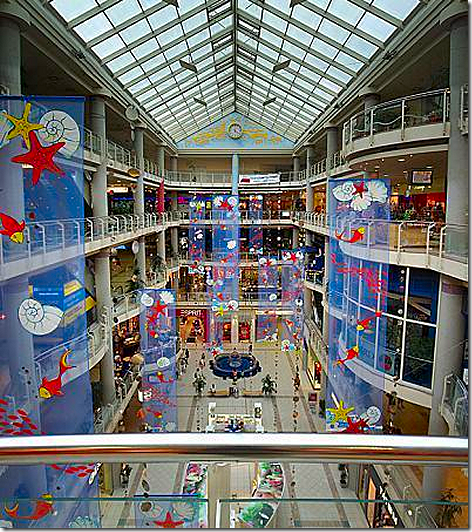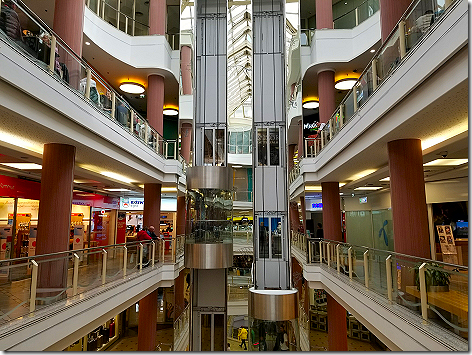 Besides wanting to see the place that everyone was talking about, one of the guys at the Viking Concierge Desk said that Notebook.hu was a good place to buy a laptop, and it was, and it's what I'm typing on now.
I got a good deal on an ASUS model, and the deal got even better when I mentioned that the Viking guy had sent me.
Afterwards we spent a couple of hours walking around, checking the many shops and stores. And it seems KFC and BK translate into any language.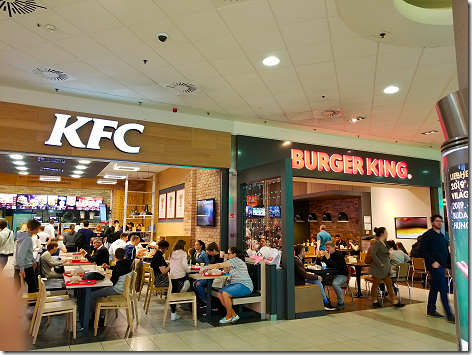 While got a Strawberry gelato, made with fresh strawberries, I got a Caramel Coffee at Starbucks right next door.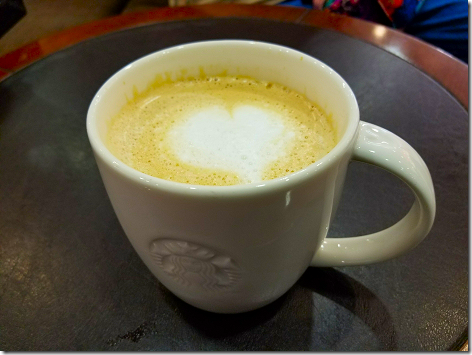 And over here it seems if your not getting your coffee to go, it comes in a nice porcelain mug. Much more elegant.
So I'll spend the next couple of days catching up the blog on how we got to this point.
When the bellhop got us a taxi at the hotel, we knew we would be OK, since they've vetted by the hotel and know if they gouge the hotel's guests, they won't be allowed to pick up passengers there any longer. But at the Mall you're on your own, and apparently it's real easy to get screwed on the fare, even to the point of being physically threatened if you don't pay up.
The taxi service in Hungary has been referred to as 'Mafia-like' and has even managed to have ride services like Uber and Lyft completely banned throughout the entire country.
So, coming back to the hotel, we decide to try the bus system. And with Google's help, we had no real problems, and even got to ride for free, since apparently most people use passes. The website says it costs 450 HUF (about $1.56) for a single ride without a transfer. But when Jan and I held out our 500 HUF notes he just waved us in. Probably didn't want to fool with making change.
The bus dropped us off right in front of Matthias Church,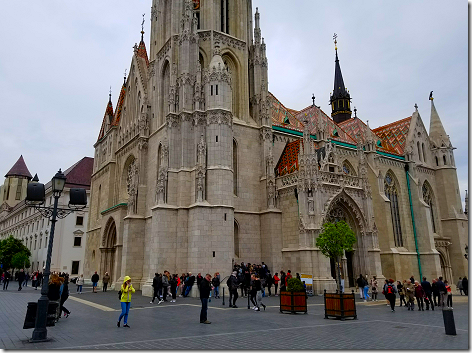 and across from the Fisherman's Bastion,

which is just half a block from our hotel.
Hungary's money takes a little getting used to. It's called the Forint, as in Hungarian Forint, or HUF. And the exchange is kind of interesting.
1000 HUF is about $3.46, so you end with some very large numbers in prices. According to placard in our room. it cost 160,000 HUF a night. And if we wanted a view of the Danube, it would be 180,000 a night. And that's $553 and $622 respectively. Though I doubt Viking is paying that much a night.
But for your $500+ a night you do get a great room,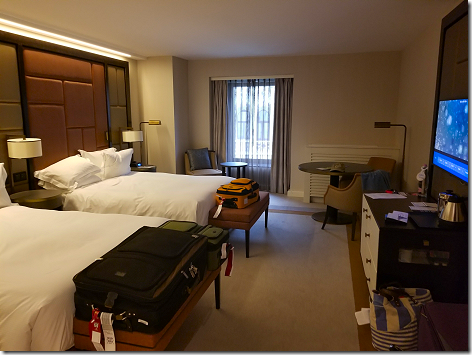 and a fantastic breakfast. And this not some typical hotel fare of do-it-yourself waffles and stale cereal in little boxes. No, this is pretty much every thing you can think of for breakfast, and even more. But I'll have more on this tomorrow as I catch up.
This evening Jan and I again had dinner at the LANG Bistro & Grill, the hotel's main restaurant. And not only is the décor very elegant,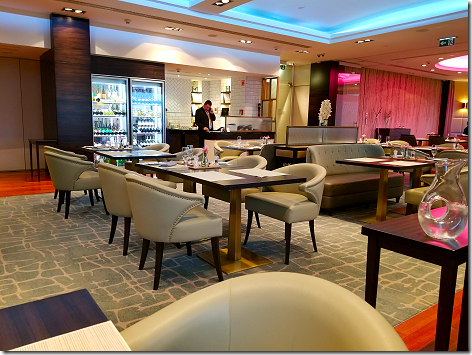 but the closeup view of the Fisherman's Bastion out our window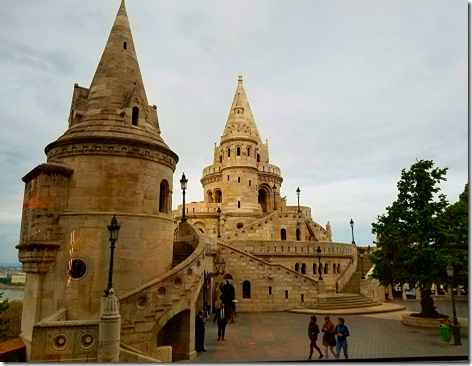 was very picturesque as well.
For dinner Jan had the same Paprika Chicken that I had last night,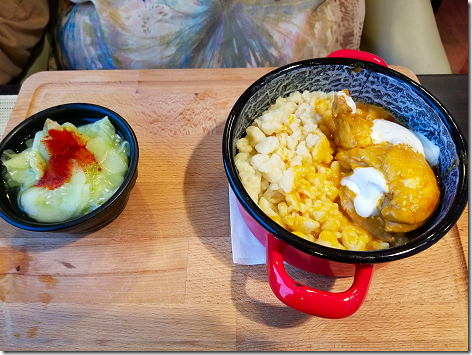 which is a rolled Chicken Breast in a delicious sauce, on top of gnocchi noodles, all covered in sour cream. It also came with a Cold Pickled Cucumber Salad made with very thinly sliced cucumbers, topped with, what else, Paprika, which seems to the the National Spice of Hungary, since it's in pretty much everything,
I figured that since I was in Hungary I should try a bowl of Hungarian Goulash.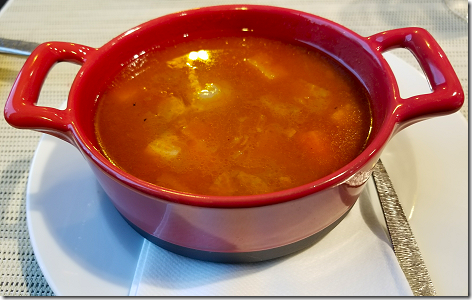 I don't know what I was expecting, but it was pretty much just Beef Stew, with tender chunks of beef, potatoes, carrots, onions, and, I think, parsnips, in a spicy (paprika?) sauce. But very, very good anyway.
For dessert we had coffee, and split a delicious Crème Brule. We felt as much as we had walked today, we deserved it.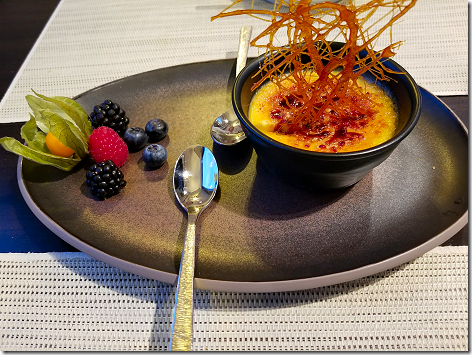 Wrapping up, early tomorrow afternoon we'll board the Skirnir, but we won't actually sail until Tuesday night, after a day of excursions here. Then our next stop is Vienna, Austria.
Keep Checking Back.
hkjh