Daily Archives:
April 7, 2019
Our last morning with all of us together started at 8:30am (UGH!) at El Bracero, a local Mexican favorite of Chris and Linda's. And it was easy to see why. But I'm going to talk about all our great food on this trip in a later post.
Brandi, Lowell, and Landon were heading back to Houston this morning since they all had to be back at work/school tomorrow. But they did plan another stop at yesterday's Pottery Ranch for something they had their eye on, and decided to go ahead and get.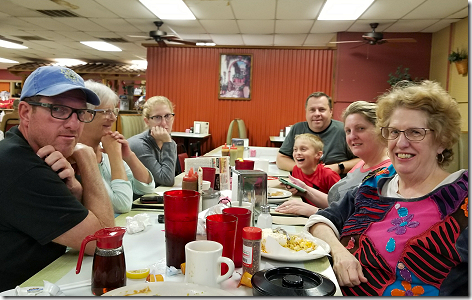 And with Miss Piper heading out this afternoon this was our last get-together.
As I mentioned before, Chris and Linda are living in one of those private airport subdivisions. And of course that means their place comes with a hanger. Or Boy's Toy's Heaven, as I call it.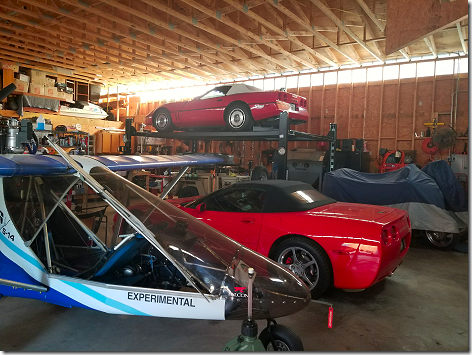 So here, in case you're counting, you've got an ultralight plane, two Corvettes, three motorcycles, and a Sea Doo. Plus a complete shop with sandblasting, welding, and pretty much anything else you want to work with.
And for Chris, it meant he had a place to take this jeep carcass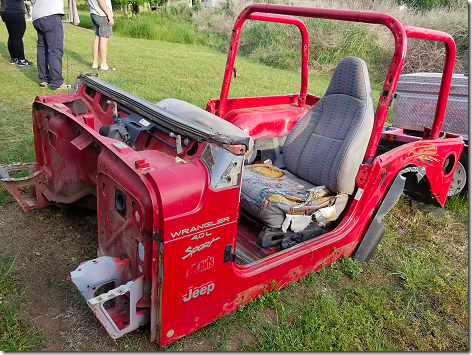 that had been rotting away in the woods for years, combined it with bits and pieces of other junked Jeeps, and after rebuilding the engine, et al, ended up with this.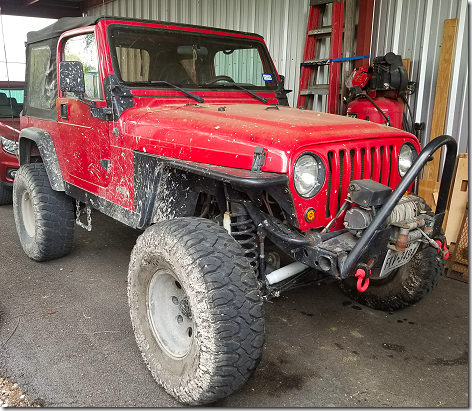 Of course this is nothing new for Chris. A while back he took a hulk of a boat that had been laying out in a field with a TREE growing out of it, and turned it into this.
Not only did he rebuild and re-fiberglass the hull, he also rebuilt the inboard engine and transmission.
In case you're keeping score, it's a 1977 16 ft. Century Arabian, with a Ford 351 Windsor (Mercruiser) engine, and a Velvet Drive inboard/outboard drive unit.
And more recently he took a pile of old drill pipe and turned it into this oversized set of wind chimes.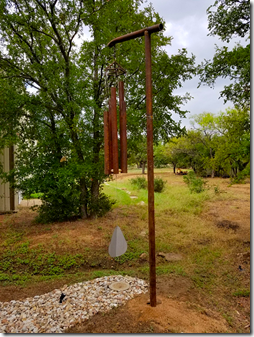 And it's even tuned correctly.
Chris even built Linda a Salad Bar, or at least a Salad Bar supply source.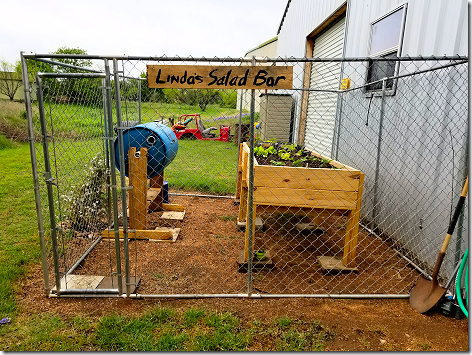 The chain link fence is there to keep the herds of deer out of the salad.
Of course, Chris' hanger is not the only one that's full of goodies. His friend Don's hanger across the street, or taxiway, has 6 planes in it.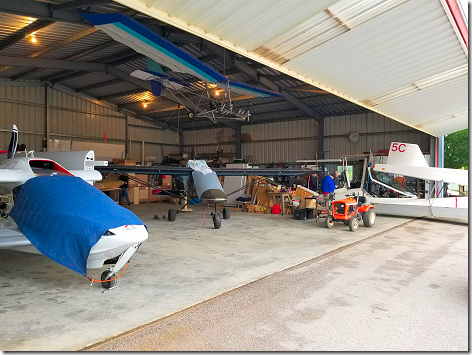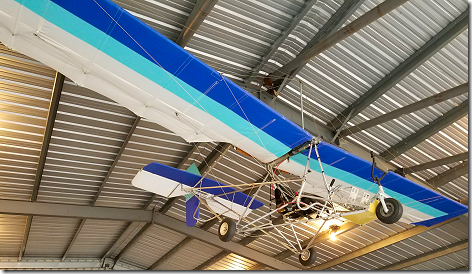 Including, on the left, an ICON amphibian like this.

Which fits nicely in the hanger because the wings fold like this.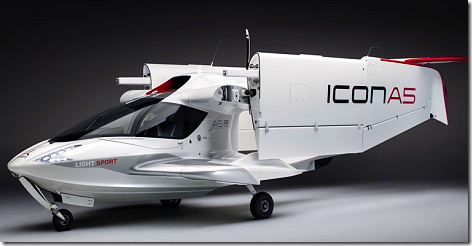 After such a great time this weekend, getting to see everyone, and seeing what Chris and Linda have done with their place, it's our turn to head back home tomorrow morning.
We've been staying at the Granite Rock RV Park, only a few miles from Chris and Linda's, and we'll definitely stay here next trip.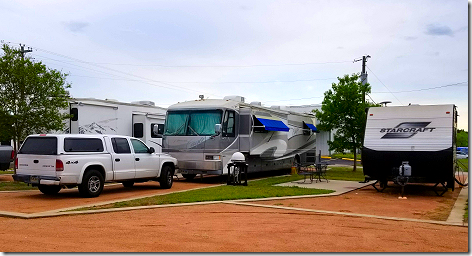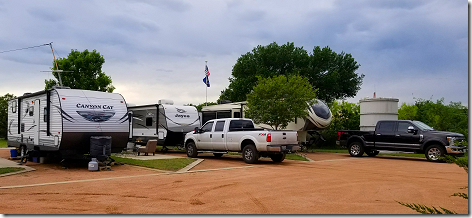 It's a small (only 8 sites) family-owned park, convenient to everything here, and has great free WiFi. Well recommended.
We plan on leaving as early as we can tomorrow, hoping to avoid the going-home traffic south of Houston tomorrow afternoon. But we'll see how it goes.
---
Thought for the Day:
I really wish Google Maps had an "Avoid Bad Areas I Don't Want To Break Down In" routing option.
ghdg