Just #$@#$#@# . . .
We pulled out of our site at the Petticoat Junction RV Park at about 8:10 yesterday, 20 minutes ahead of schedule, so the day was starting off on a good note.
Heading up on I-45 and then west on the SH Tollway, the only slowdown was at the US59/I-69 interchange, and then it was on out on to I-10W with our first stop at the Katy Buc-ee's for breakfast kolaches and coffee about 70 miles along.
But the first thing we did was to check the truck for any oil leakage. We were very happy to see any sign of oil on the truck, unlike last April when we after ready had oil showing when we stopped here.
So it looked like our long-term oil leak problem was finally fixed. In fact the oil pressure was actually showing a couple of pounds higher at 63-64#, rather than the previous 61-62#.
But then about another 70 miles, the other side of Columbus, the oil pressure started dropping, and dropping much quicker than it ever had before. In fact, within about 20 minutes it was down in the high 40's, so I quickly pulled over to check things out.
And now I had oil all over the tarp covering the truck's windshield and streaking down the sides.
DAMN!
I went ahead and added the gallon and a half of Shell Rotella 15W-40 I had with me, and we headed out again. Getting off I-10 at Luling, I stopped off at the Love's Truck Stop there and bought 4 gallons, all they had in stock.
And then got my second big shock of the day when the price for the 4 gallons was $112 including $8 sales tax. That made it about $26 a gallon, slightly more than double the $12.99 I normally pay at WalMart or Tractor Supply.
OUCH!
Trying to gauge how much oil I was going to need to get to Kingsland, I made another stop at a Valero in Lockhart and got two more gallons. This time it was a little better, at $22 a gallon.
But as it turns out, I didn't need the last 2 gallons.
We got into the Granite Rock RV Park in Kingsland about 5pm and got set up. Chris, Linda, and Miss Piper showed up about 5:30 and drove us over to Alfredo's, a really good Mexican place.
Probably tomorrow I'm going to crawl back under the rig to see If I can find any problems. Obviously something came loose or gave way.
Odds are that I won't be able to do anything about until we get home, but you never know. I sure would like to find a tiny hole punched in the oil filter from road debris, but I'm not holding my breath.
On a better note, we have really enjoyed spending time over at Chris and Linda's lovely place, including just sitting out in the yard that Chris has worked so hard on.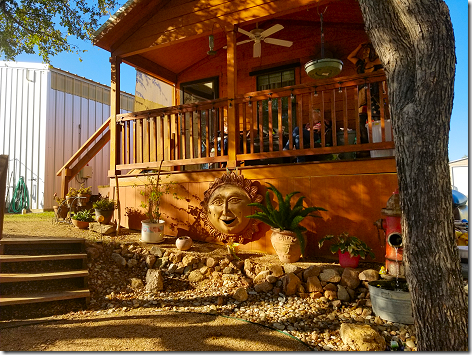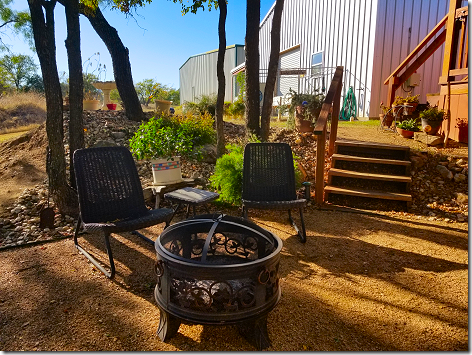 Brandi, Lowell, and Landon got up here tonight and we'll all be getting together for breakfast tomorrow morning.
Really looking forward to it.
---
Thought For The Day:
"Do not go where the path may lead, go instead where there is no path and leave a trail." – Ralph Waldo Emerson
ghfgh