OH HELL, NO!
Back in 2009, our 2nd year on the road, we left Houston about the 1st of March and headed east. Our first extended stop was Gulf Shores, AL, my old stomping grounds,where we spent the entire month of March.
Then it was on east following US98 along the Gulf Coast through Panama City, Apalachicola, and Carrabelle, before getting off 98 in Homosassa and cutting across the state to Bushnell.
All along our Florida travels we had been trying to book a stay at the Fort Wilderness RV Park at Disney World, without any luck. But everyone said to just keep trying every day in case something opened up.
In any case, we figured we had two shots at it, one as we came south and then another as we came back up the east coast. But while we were at Bushnell, all of a sudden they had a bunch of sites open and we had our pick. Turns out that they had taken a bunch of sites offline while they were refurbishing them. And we just happened to check again the day they went back online. So we quickly booked a two week stay.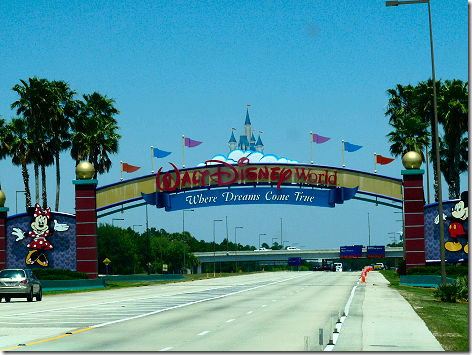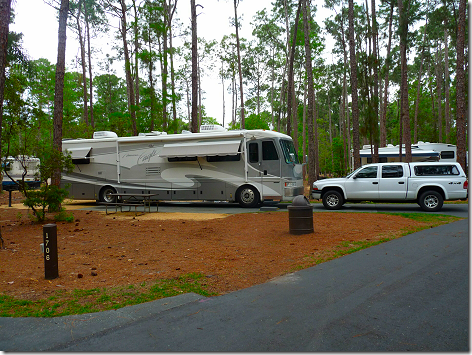 We had already read that it was much cheaper to buy our tickets from one of the independent ticket brokers outside the park. And that was definitely true.
We were able to purchase 10 day All Park passes for only about $25 more than what a 2 day All Park pass would have cost us in-park. We were kind of looking forward to this visit since it was first time we had been to an amusement park by ourselves since November 1967 when Jan and I visited Six Flags Over Georgia in Atlanta when Jan was pregnant with our son Chris.
And we did have a great time, but we also discovered that no matter what Walt said, DisneyWorld/Land is NOT THE HAPPIEST PLACE ON EARTH. I have never heard more whining, crying, sobbing, whimpering, yelling, and screaming.
And that was just the parents!
The kids were much, much worse. And it seems like you were never out of earshot of someone 'whining, crying, sobbing, whimpering, yelling, and screaming'.
But all this leads us back around to today's blog title.
One of Jan's favorite shows is 'OutDaughtered', one of those shows about a family with a bunch of kids, in this case, six girls, five quints and an older daughter. And one of the real attractions for Jan is that the family lives right in our area, in League City, right down the road. So it's interesting to watch them visit places we know and have visited ourselves.
So recently the entire horde, parents, six kids, other family members, and of course, the camera crew, all flew down to Florida to take a Disney cruise. So since Jan and I have been talking about (and booking) cruises lately, I asked her if she would be interested in taking a Disney cruise. And her answer to me –
OH HELL, NO!
I guess it would be just like DisneyWorld, except we would be trapped on the ship with all of them and nowhere to run.
Yikes!
Today was pretty much called on account of rain. We had a number of errands planned, but as usual, lunch came first, about 1pm. And while we were in Los Ramirez, the bottom dropped out and the wind picked up.
And by 'bottom dropped out', I mean you couldn't see more than about a couple of car lengths in front of you. And with the wind whipping back and forth it was a real mess. so after lunch we just came back home.
So everything gets pushed back to Saturday now.

——————————————————————————–
Thought For The Day:
Perhaps if Brains were described as an App, more people would use them more often.
gjg