Daily Archives:
May 1, 2021
After a rainy night, and a slightly less rainy morning, but better with coffee, we left out about 1pm, with our first stop at the Pop Top Burgers up in the Friendswood area.
Since we knew that Pop Top was started by the lady that started Stomp's Burger Joint over in Kemah, we were expecting it to be good. And it was.
Jan had her usual burger, the same one she's been having since we first starting eating at Tookie's over 42 years ago. Then it was called the Stomp's Ice House Special. It was a burger with Cheddar / jack blend, picante sauce, diced & grilled jalapeños, diced & grilled onions, lettuce, tomato, and mayo.
Then after Tookie's was flooded out and didn't reopen after Hurricane Ike in 2008, a bunch of their employees started Stomp's Burger Joint right down FM146 a few miles, taking the name from Jan's Stomp's Ice House Special.
Trying to recreate Tookie's, Stomp's pretty much replicated Tookie's menu, but changed the name of the many burgers. In this case, Jan's Stomp's Ice House Special became the Outlaw. Same ingredients, new name.
Pop Top is located in a strip center near our old house, and in part of what used to be a Blockbuster Video Store. That's how long ago it was.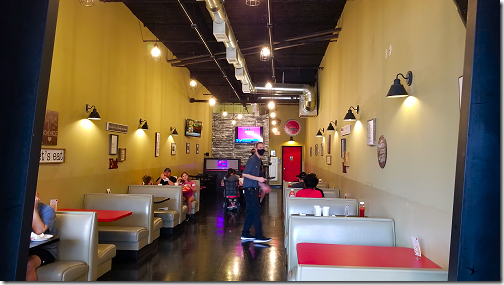 And it seems that Pop Top is following the same path, with the Stomp's/Outlaw burger now called the Chopped Jalapeno Burger. Kind of a pedestrian name, but Jan says it's just as good as 42+ years ago.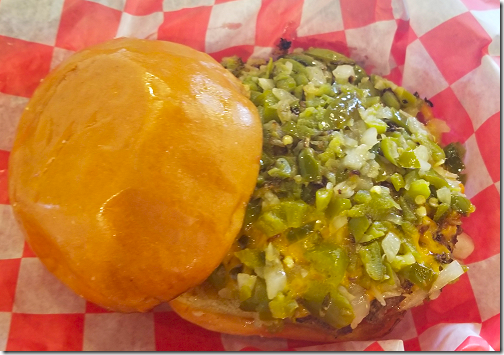 I of course had to have the Big Bubba that I've posted about before.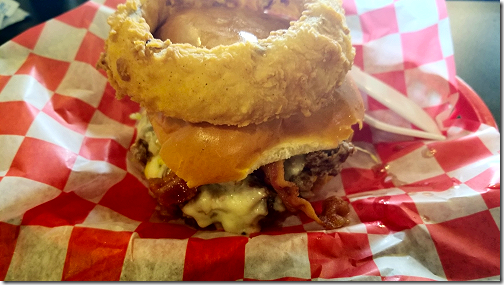 And we just had to get an order of their delicious onion rings. Of course, lucky me, my burger came with one.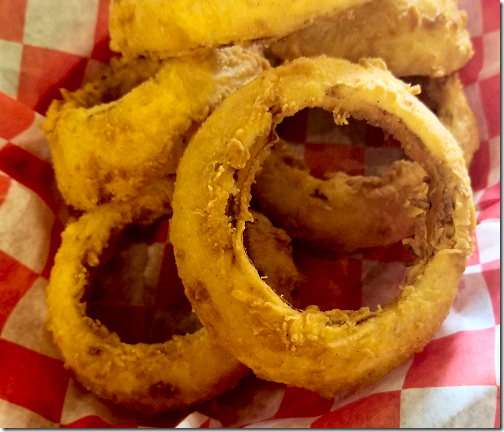 Tookie's/Stomp's and now Pop Top have always been known for their hand-cut/hand-breaded Thick Onion Rings, and it's easy to see why.
After lunch we headed over to the El Dorado WalMart, taking the back way to go by our old house to check it out. And after a few things at WM, we stopped across the parking lot at the Kohls to drop off an Amazon return.
And I was in and out in about 30 seconds. Just hand them the things, show them the QR code on my phone, get my receipt, and I was out the door.
Then next door at Sam's I got gas, picked up a prescription, and found out where I can find the Sam's Club Plus Card prescription prices online, so I can now finish my Kroger's/WalMart/Sam's Club prescription price comparison. Coming soon.
And then coming home, the overcast, rainy day made it perfect for a Ghirardelli's Hot Chocolate from Cowboy Coffee.
The perfect end to a very nice, and tasty, day.
---
Thought For The Day:
"Morality, like a chameleon, tends to take on the color of the circumambient society." – P. Yogananda
https://medicalxpress.com/news/2021-03-coronavirus-decoy-protein-impotent.html