Daily Archives:
May 12, 2021
We got word last night that the mother of a long-time friend had died on Monday and they were having a viewing from 3 to 5pm this afternoon at a funeral home in Friendswood. So Jan came into work with me this morning to do some shopping before we drove over to the viewing about 4pm,
We've known Connie, the daughter of the deceased, since about 1997 when we first started attending the Alvin Opry. And we ran into a lot of old friends that we haven't seen for a while there this afternoon.
A couple of ministers gave a nice service talking about Hazel and her life, and then a number of people who knew her told stories about what a character she was. The reason there was only a viewing here in Friendswood is that Hazel wanted to be buried in California where she was from, so her body was put on plane this evening.
A very nice tribute.
After it was over, Harry and Sadie said they were going to have dinner at the Texas Roadhouse over on I-45 and invited us along, so we happily (and hungrily) accepted. And getting there about 5:45 we were happy to be seated immediately.
Interestingly, the first thing we saw as we entered was a large sign saying that masks were optional, and the majority of the diners seemed to be taking them up on that.
Looking over the menu, Jan and I decided that we wanted something a little lighter than steak, so we both got the Combo Platter, with Boneless Buffalo Wings, Rattlesnake Bites, and Loaded 'Tater' Skins.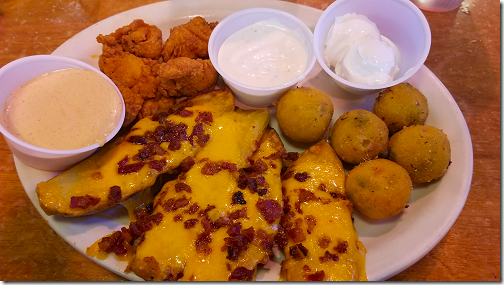 Very, very good. And in fact all four of us ended up getting the same thing.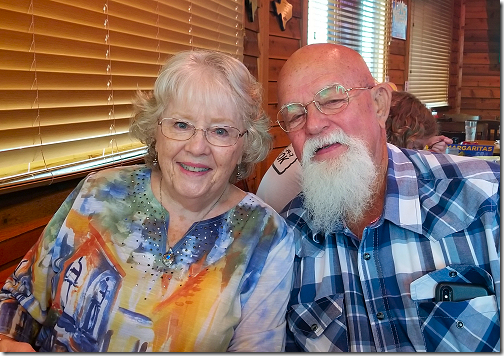 We did talk about setting up a schedule to get together for dinner regularly, especially since they actually don't live too far away from us in Santa Fe.
A sad day, but at least it ended on a nice note with old friends.
---
Thought For The Day:
"Strange how paranoia can link up with reality now and then." – – Philip K. Dick.