Daily Archives:
May 26, 2021
SpaceX put another 60 Starlink satellites into orbit today, which is supposed to complete the first level of the system. Don't know, but hopefully it means we might be getting our dish/system soon. Crossing my fingers.
Also crossing my fingers that my new phone comes in tomorrow as scheduled. At least that's what UPS says. And Jan's also crossing her fingers since she's excited to get my hand-me-down S8+ to replace her S5 which is now 7 years. Which I think must be about 20 in phone years.
And I'm ready for it since I already my Otterbox and Screen Protector ready to go.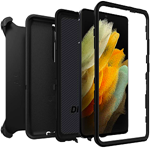 As I mentioned yesterday, we've got an appointment at our local NTB tomorrow afternoon to get new tires for our Jeep. And as I always have with our Dodge Dakota, I chose their 'house brand' Crosswinds with a 40,000 mile warranty. And once I eliminated all the stuff I didn't want (Road Hazard Warranty for $20/tire), and didn't need (TPMS (Tire Pressure Monitoring System) Repair Kit) since the Jeep doesn't have a built-in tire pressure monitoring system, I'm getting the 4 tires installed for $480 out the door.
I could have bumped up to the middle choice, the Mesa AP3's, with a 50,000 mile warranty, but the 20% added mileage would have cost me 30% more per tire. Not a good trade off. And FWIW both of these tires are made in China, so no change there.
And if I was feeling really spendy, I could have gone with brand name Michelin's, for more than double the cost of the Crosswinds. Though these are made in the U.S., for some strange reason, they have absolutely no mileage warranty of any kind.
So what's the point
Tomorrow was the last day of school for Landon this year, and his graduation day from Elementary School. Next year he'll be in 6th grade, or Middle School, as they call it here.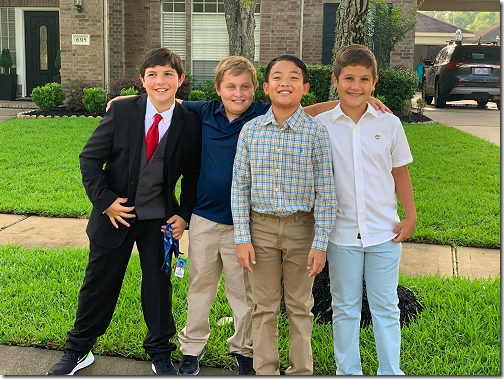 That's him, 2nd from the left in the blue shirt.
Somewhere along the line, the grade levels changed since Jan and I were in school. Back then, Elementary School was 1st – 6th, Junior High was 7th and 8th, and High School was 9th-12th. Easy Peezy.
Then somewhere along the way Junior High became Middle School, but the same grades. But now 6th grade has been bumped up to Middle School. So why?
Wrapping up the subject of Landon's school, Brandi posted this note she got from Landon's home room teacher.
Just got the sweetest note from Landon's home room teacher. I asked how he has been doing and if his behavior has improved and she wrote the following:
We have a mutual respect and he knows I think he is pretty amazing. I told him, and I would like to share with you that he has the soul of a writer. I keep thinking back to the beginning of the year when he refused to write and I dreaded giving him a writing assignment because he would fight me tooth and nail on it. Now, I cannot get him to stop writing. He has such an amazing imagination and his voice rings out in everything that he writes. With his art skills he could illustrate his own books. I told him when he publishes his first book, I would like him to mention me in the dedication. Ha!
I will truly miss him next year and hope he will keep in touch and let me know how he is doing!
Awww. So sweet. Even with the "White Sarcasm" gene going strong!!
And she's right about the "White Sarcasm' gene too.
---
Thought For The Day:
I always look both ways before crossing a one-way street. I've driven behind a lot of people that I don't want to be in front of.