Daily Archives:
May 18, 2021
After it rained heavily all morning, it was finally clear when we left the rig a little after noon, heading for Galveston and the Sunflower Café. We were meeting up with long-time friends, Peri and Jim Dean to have lunch there again.
We've known Jim and Peri since we first met them in Las Vegas in, I think, 2013, and we always get together whenever we're close. And the last time was back around the first part of last December, also at Sunflower Café.
But Sunflower Café wasn't in the cards for us today, as when we got there about 12:45 this afternoon, they were locked up tight, with no notice or announcement. So we decided to adjourn to the Mosquito Café right up the block, so I put in a call to Jim to give him the change of plans.
We've wanted to eat there for a while and this seemed like a good chance, but this wasn't to be either. They were very crowded, probably because Sunflower was closed, and there seemed to be a long wait for tables. So changing plans again, we moved the whole operation a couple of blocks up the street to the Original Mexican Café, where we were seated immediately.
The Original Mexican Café is the longest continually operating restaurant on Galveston Island still at its original location, and that's since 1916.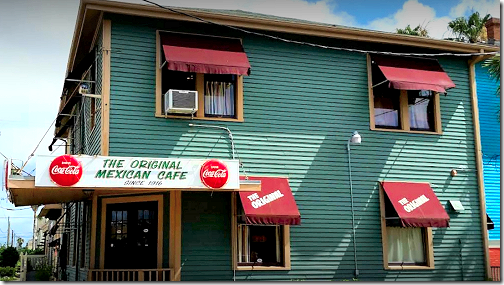 And although we've eaten here a lot over the years, the last time was in December 2017, when Jan was very unhappy with her meal. So we haven't been back.
Needless to say, Jan can hold a grudge.
And it looks like they've redeemed themselves in Jan's eyes, since she said that her Chile Relleno was very good.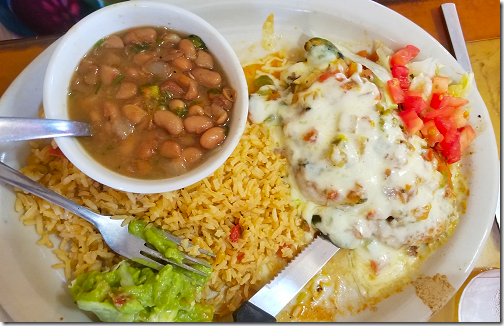 So I guess they're back on her Nice list again.
Jim and I both had the Original Platter with a little bit of everything on two plates.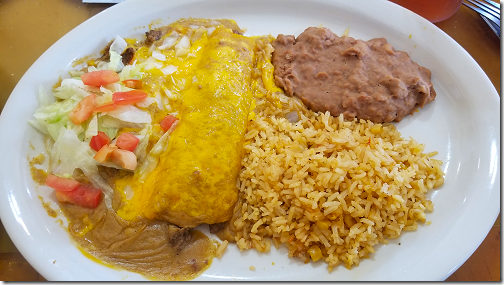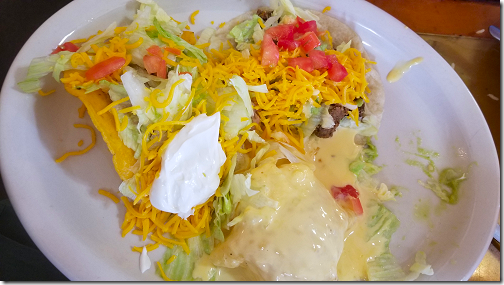 Apparently Jim and I both thought it was really good since we pretty much cleaned our plates.
I don't remember what Peri had, but I assume she liked it as well, since I didn't hear any complaints.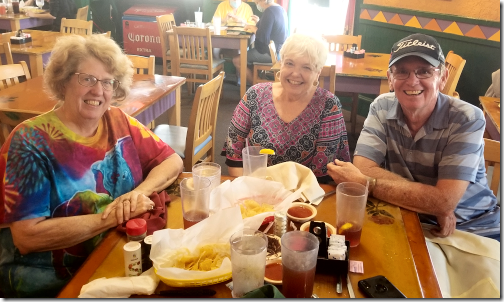 And as usual when we get together, we sat and talked for almost 4 hours before we headed home, and Jim and Peri went back to their rig at the State Park.
We had a great time and hopefully we'll be able to do this again soon.
And Thursday we get to do the whole friends-get-together thing again, with Ed and Debi Hurlburt, and Janice and Dave Evans, this time up in Huntsville at the Farmhouse Café there.
Supposed to be really good, so we're looking forward to it.
---
Thought For The Day: