Daily Archives:
May 4, 2021
Be With You.
And in honor of May 4th, Star Wars Day, Elon Musk tried to pull off a doubleheader launch today, with a Falcon 9 launch from the Cape carrying another 60 Starlink satellites into LEO, and another test launch of the Starship, SN15, from Boca Chica, TX.
The Falcon 9 blasted off on schedule, and landed on a barge out in the ocean about 9 minutes later, its 9th successful launch and landing.
BTW Musk says that the Falcon 9 series is named for the Millennium Falcon of Star Wars fame, and the Dragon crew capsule is named for Puff The Magic Dragon. That Dragon capsule has taken two groups of U.S. astronauts up to the International Space Station and brought one group back, the first time Americans had traveled to the ISS on American rockets since the Shuttle was retired in 2011.
But unfortunately the SN15 launch was scrubbed until at least Thursday due to weather concerns.
With another 60 Starlink satellites joining the constellation, hopefully they're close to rolling out access to the general public. Musk recently said they have over 500,000 preorders (like mine) on the books, which at $100 each, totals over $50 million.
About 10pm last night I got an email from PayPal saying that I had received a refund of $153.82 to my PayPal account from some place called Air Can. I spent some time racking my brain trying to figure out who Air Can was and why they were giving me money back.
I searched through my Amazon account looking for AIR CAN or a charge for that amount, but I found nothing. So I started searching back through my PayPal charges all the way back through 2020, and still found nothing.
I even Googled to see if it might be some sort of scam, but still nothing.
But then this morning it all made sense.
I got an email from Expedia telling me that Air Can was Air Canada, and the refund was for our tickets to Fairbanks, AK for our FIRST Holland America Alaskan Cruise. And the reason it didn't turn up in my PayPal charges is that I had made the reservations back in late 2019 for our May 2020 cruise.
When I cancelled the flights in March of 2020 due to the China Virus, they were the only one that didn't refund all of our money. But apparently they got so much pushback that they finally refunded the rest of the money.
So not a scam.
I signed up for Kroger's Pharmacy Club this morning, doing it all online, so I could drop off almost all our prescriptions there this afternoon when we were out and about.
I said 'almost' because, strangely enough, of her two Levothyroxine scripts that Jan takes since her thyroid was removed, one was $6 and the other one was $26.82. The difference is that one was 150mcg and the other one was 175.
She takes a 150 one day and then a 175mcg the next, continually alternating them. This gives her the 163mcg average dose that her doctor wants her to take.
So I gave the 150mcg one to Kroger's, and I'll give the 175mcg one to WalMart, where it's only $10, saving me a whole $16.82.
But, hey. It's $16.82.
This was the only prescription where Kroger's wasn't the cheapest by far.
Jan and I headed to Webster about 1pm, first to have lunch at Twin Peaks, with Jan getting her long-time favorite Spicy Chipotle Chicken with Broccoli and Mashed Potatoes,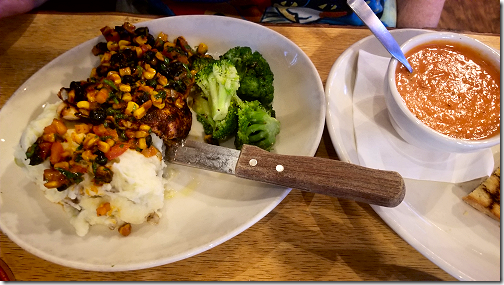 as well as a cup of their really good Tomato Basil Soup.
I got my usual Half Wedge Salad and a Bowl of their Venison Chili.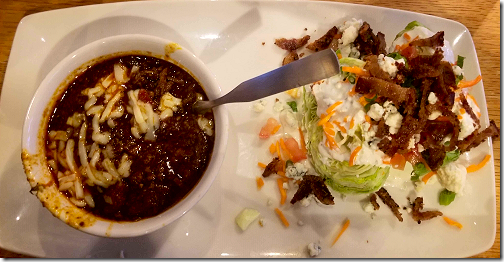 One thing that makes the Wedge Salad so good is that the bacon on it is thick cut and marinated in brown sugar, red pepper flakes, and paprika. So it adds just touch of sweetness and heat.
So good food and scenic views, just like the ads say.
After lunch, besides our Kroger's, WalMart, Kohl's, and office stops, I made a quick stop at Harbor Freight to pick up a small pick axe. I needed it to dig out the rock-filled dirt between the rig door and the patio so I could lay some paving stones as a walkway.
When I got to the lady cashier to check out, she looked at down at the axe and said, "Got some digging to do?"
I looked at her with a perfectly straight, serious face and said, "Got a body to bury."
Then she said, again very seriously, "Need some help? I know a couple of good places."
Then we just looked at each other, both of us wondering I sure, how really serious the other one was. Then without another word, I paid my bill and walked out.
And I'm sure she went home tonight and told her husband her side of this same story.
So now we're both wondering.
---
Thought For The Day:
Chance favors the prepared mind.