Daily Archives:
May 23, 2021
About 2pm Jan and I headed out amid the drizzling rain to first have lunch at Denny's, with their Ultimate Omelets once again. Always delicious, and another place where Angie already knows what we want so we don't even have to really order.
Then it was across the Interstate for a few things from HEB before heading home, still in the rain. And more is still forecast for the rest of the week.
Hopefully my new Samsung Galaxy S21 Ultra will be in this week. It's supposed to be shipped out the Tuesday and I should receive it by Thursday.
Maybe. As long as it gets here before we leave on our trip June 7th, I'll be OK.
Jan has been personalizing the rear window of our Jeep, by replacing their two dog decals with a cat, and adding a moose and two flamingo ones.

I tried to find decals to replace Jan and I, but there didn't seem to be any with an old, bald guy, and his pretty young wife. But I'll keep looking.
Well I said the other day that you can never have too much Van Gogh. But now I have to add, you can never have too many.
Long-lost van Gogh masterpiece 'discovered' by NYC collector
The painting, signed and dated 1890, is a square panorama of the valley of Auvers, showing its mosaic of wheat fields bisected by a railway line. It also bears the label of Jonas Netter, one of the most influential collectors of the early 20th century, who discovered Amedeo Modigliani.

"The picture is in pristine original condition, painted on a coarse burlap canvas consistent with those used by Van Gogh late in his career. It is unlined and in its original stretcher to which it is tacked by small 19th-century nails.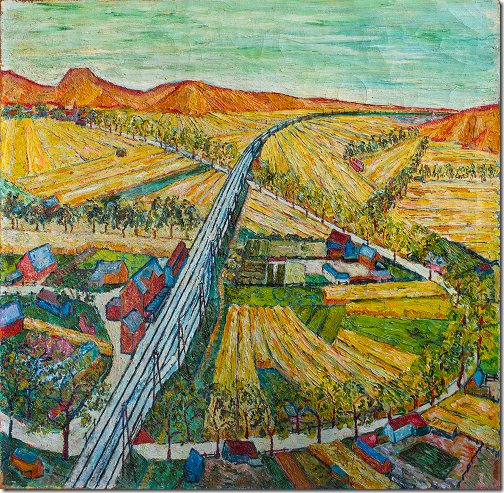 ---
Thought For The Day:
If your home is mobile but four out of five cars in your yard are not . . . you might be a redneck.
Well, my home is mobile, but both my cars run. So there!