Daily Archives:
May 2, 2021
Friday and Saturday, The Weather Channel said we were looking at heavy rains all weekend, and even into next week. So that's why we cancelled our Sous Vide steak cookout today.]
But, after raining all night, this morning dawned bright, clear, and sunny. And stayed that way all day. And it looks like the rain is mostly gone for the rest of the week, too.
So they can't tell us what the weather is going to be next four days, but they're trying to tell us what the 'weather' will be in the next 10, 20, 30 years. Or even next century.
Yeah, that's the ticket.
So, as we had planned due to the previous weather forecast, we headed out to have lunch about 1:30, at Gator's Bar & Grill once again. And it was just as delicious as our previous two visits.
Jan had the same sandwich she did on our very first visit, the Fried Chicken Sandwich, with Sweet Potato Waffle Fries.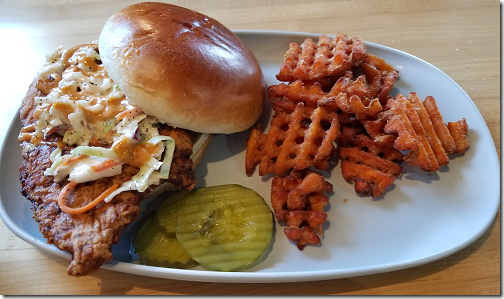 She said that the Coleslaw is so good, it makes the sandwich.
I went right back with the same thing I had last visit, the Blackened Chicken Sandwich with Pepper Jack Cheese, Bacon, and Texas Toothpicks (fried strips of onions and jalapenos). Also with the Sweet Potato Waffle Fries.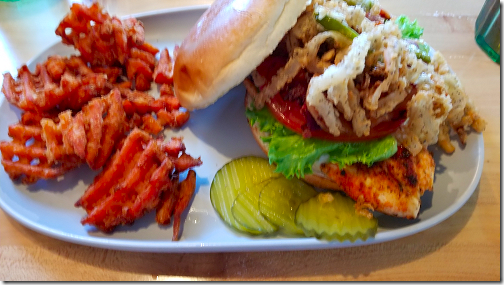 But what was different this time was that we decided to split one of their desserts, in this case, the Brown Butter Cake.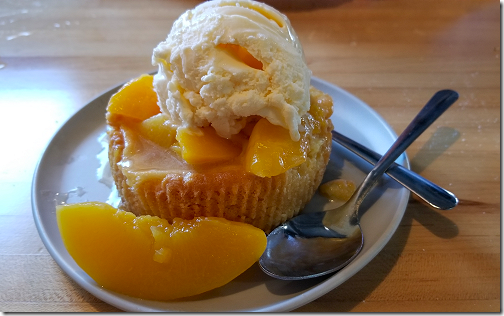 It's a rich brown butter cake topped with bourbon glazed peaches, salted caramel and whipped cream. And it's really, really good.
We also spent some time talking to Margie, the owner, about her time working in Las Vegas at the Excalibur Casino as head of catering from the late 90's to the early 2000's.
Though she was there before Jan and I started going there in 2008, and I think, every every year after through 2017, except for 2009, we still knew a lot of the same places.
It looks like we have a winner in the Drug War . . . or at least the Prescription Drug War.
And, as I suspected, it's Kroger's.
In my case, my 3 prescriptions for 3 months total $75.34 with WalMart, $66.00 with Sam's, but only $16.00 with Kroger's
Jan's prescriptions for 3 months total $213.66 with WalMart, $194 with Sam's, but only $82.82 with Kroger's.
That's a big difference.
Now, the cost of the Kroger's Plan membership is $72/year, which prorated for the 3 month period adds $18 to the total. But then I can drop the Plus Card $55 extra cost from our Sam's Club membership, leaving us an increase of $17 in total.
So about $1.42 a month extra. Inconsequential compared to the total savings.
---
Thought For The Day:

Some people are so ungrateful. No one ever thanks me for having the patience not to kill them.