Daily Archives:
September 5, 2019
Jan and I headed out a little before noon this morning, with our first stop at the Black Bear Diner out on I-45 for lunch. BBD is presently our new favorite place, but probably just the latest one. At least until something newer comes along.
Though they were busy, it wasn't like last Sunday and we got seated immediately.
While Jan got her usual bun-less burger with Avocado and a Side Salad,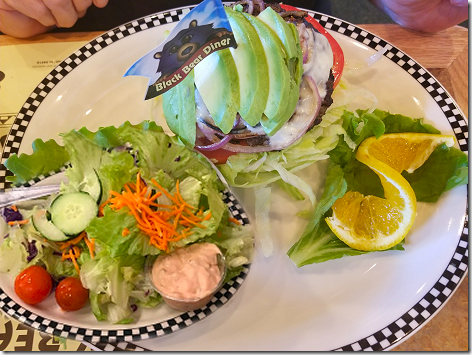 I went with something new that I saw on the menu last visit, The Bacon Cheeseburger Salad, with their delicious Bacon Ranch Dressing.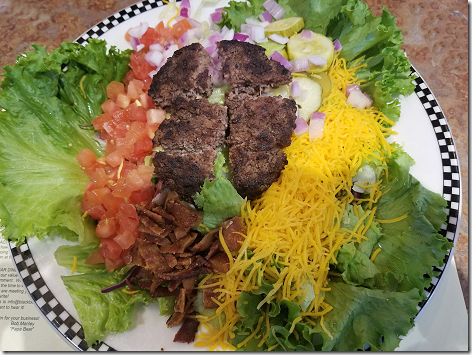 With a Burger Patty, Bacon, Cheese, Dill Pickle Chips, Tomatoes, and Red Onions, WOW! was it good. And very filling and very Keto.
Finishing up we drove on up to the Webster area so Jan could get her toesies done while I drove over to the Sam's/Wal-Mart for gas and a few groceries. I was happy to see gas at Sam's now down to $1.98/gal,
Very nice.
As I was leaving the Wal-Mart I saw a Loomis Armored Car out in the middle of the lot surrounded by about 6 police cars and a couple of black pickups. And there was also a news helicopter circling overhead, though I couldn't tell which station.
Something was obviously going on, but I never found anything online about what it was.
Picking up Jan when she was done, we headed up to the Katy area to drop Jan off at Brandi's so she can team up with Lowell's parents for Grandparent's Day tomorrow at Landon's school. Then I came home and then will go back up Saturday afternoon for Landon's Birthday Party.
I'm still not sure what my next step is on my oil leak problem. I'll probably crawl underneath the rig tomorrow afternoon with my Panasonic camera and get extreme close-ups from several different angles of the center bolt that is supposedly holding the adapter in place.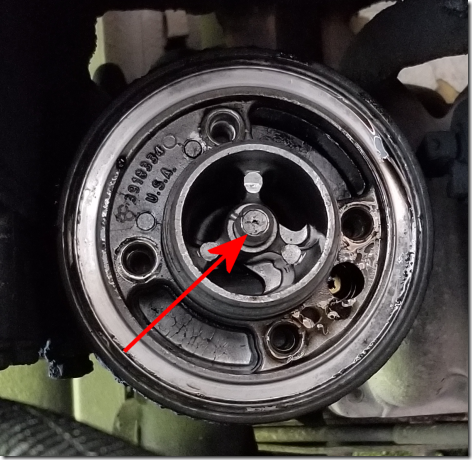 There is some sort of 'locking' pin there but I can't tell what it's supposed to do.
I've already resigned myself to the fact that I'm probably going to have to put it all back together to so I can crank up and lower the rig down to actually reach the adapter with my hand.
And then of course I'll have to take it all apart again to try and actually fix it.
I guess because I posted the blog about crows stealing my chrome sockets, this article showed up in our FaceBook timeline.
I wonder if she's got my sockets.
Of course there this 83 year old lady who supposedly trained her 65 cats (and 17 kittens) to steal jewelry from neighboring houses.
So far I haven't had much luck with Karma, though she did bring us a dead mouse once.
(and yes, I know this is a fake story)
---

Thought For The Day:
You know you're old when your redneck friend says, "Here, hold my teeth", before he does something stupid.
fasdf