Daily Archives:
September 25, 2019
Since not much happened today, and I've been on a train kick lately, I thought I'd repost our visit to the Bailey Railroad Yard in North Platte, NE, in June 2017, another check-off on my personal bucket list.
After our visit, Jan said that initially she was doing it just because I wanted to, but later said she reallly enjoyed and it was fascinating.
June 12, 2017
After sleeping late, we had our coffee, OJ, muffins and a quiet morning, talking about what we wanted to see while we were here, and also our schedule for the rest of this trip.
We did some shifting around, dropping a couple of stops, and adding to a couple of others. The main one we dropped is a stop in Waco for a couple of days so Jan could visit The Silos and Magnolia Market of Chip and Joanna Gaines of HGTV's 'Fixer Upper'. But we decided to do that as a day trip up from the Colorado River TT when we're there.
I also got our reservations for the Riverside RV Resort in Bartlesville, OK so we can visit Ree Drummond's Mercantile in nearby Pawhuska, OK.
About 1pm we headed out to visit the Golden Spike Tower and the Bailey Yard, something that I've wanted to do for a good while. And Jan was looking forward to it too.
But on our way, we first scouted out the station that I found on Google Maps Street View yesterday, and it looks like we're good to go when we leave here on Wednesday.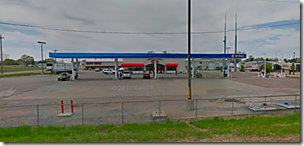 It has separate diesel pumps on the right side and plenty of room to get in and out, as well as hitching up the toad. Even better, as I said, they also have the cheapest diesel around at $2.25 a gallon.
The 100ft, Golden Spike Tower is visible from a long distance on the flat countryside so it was easy to find.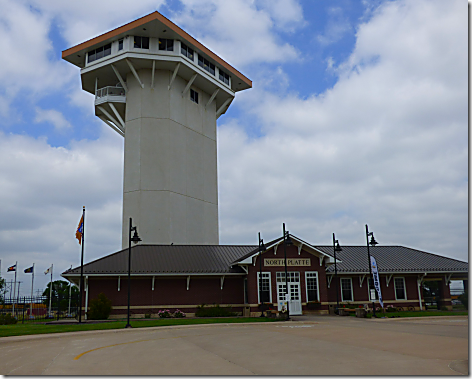 There are two observation decks here, an open balcony on the 7th floor, at 83 feet, and the 8th floor, an enclosed deck at 95 feet. Admission was only $6 each for us seniors, so a nice deal.
The stats for this place are amazing. With over 315 total miles of track, the Bailey Yard stretches over 8 miles from end to end and covers over 2,800 acres.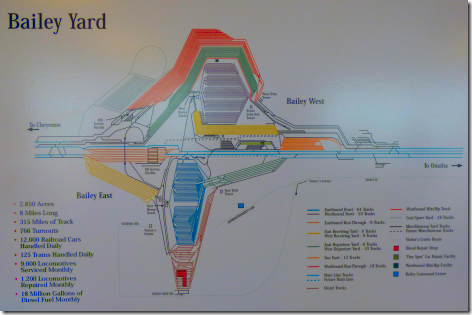 The yard handles about 155 trains a day, with over 70 of them coal trains, totaling over 10,000 railroad cars.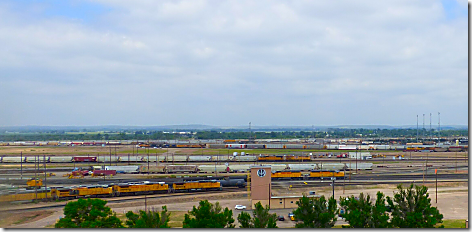 The Diesel Repair Shop handles over 750 locomotives a month, with each doorway leading to an area for a different type of repair.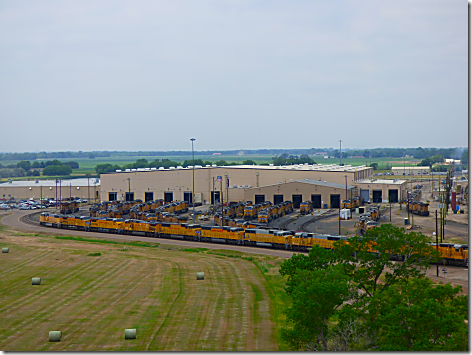 And here are the finished locomotives lined up and waiting to be assigned to an outgoing train.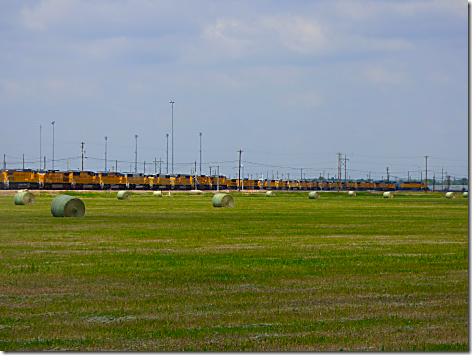 This is the Sand Tower, where sand is loadied into the locomotive's hopper. The sand is sprayed on the rails right in front of the wheels in cases where, due to rain, ice, or snow, the rails might be slippery.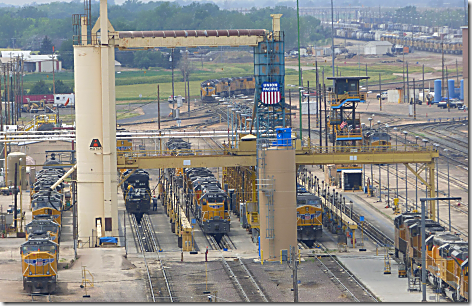 This is the fueling area, going through over 14 million gallons of diesel a month. Now I don't feel so bad about my 150 gallon tank.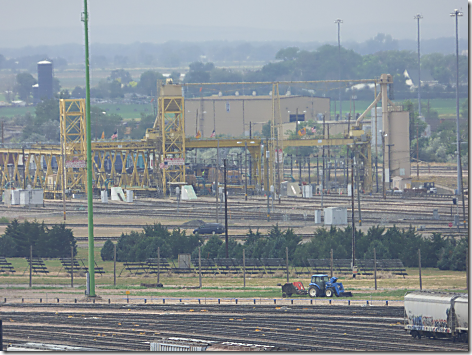 One of the most amazing things here are the two Hump Yards, one for east bound trains and one for west bound ones.
A string of cars are pushed to the top of the hump, a 34ft high hill.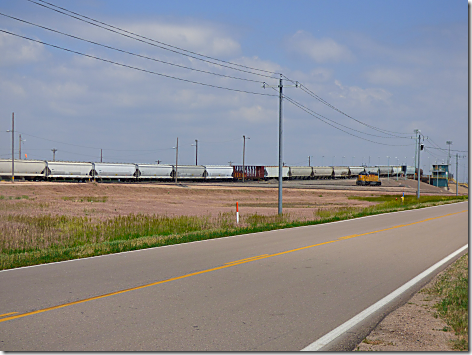 Then one or two at a time, the cars are released at the top and start to roll down hill.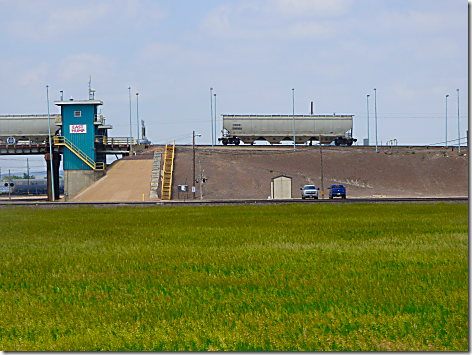 As the car(s) come down they are automatically routed through multiple switches and slowed down as necessary by 'retarders', i.e brakes along the rails.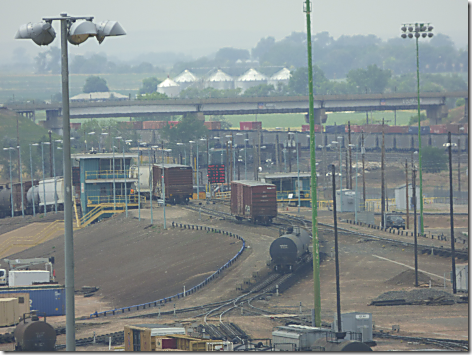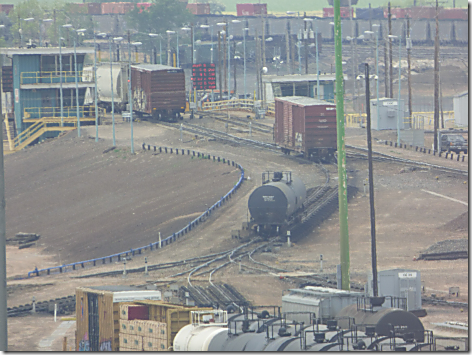 At the bottom of the hump, one of over 3000 cars a day, they end up being routed into the correct train, ready to be assigned an locomotive.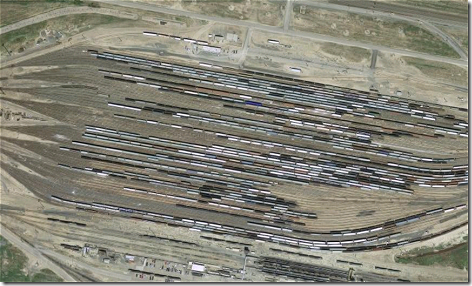 And all that magic is done from this building, the Bailey Yard Conrol Center.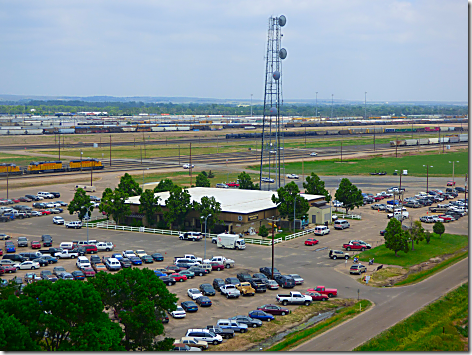 In this building every one of the 985 switches in the yard can be controlled remotely. Even more amazing is that many of the locomotives moving cars around the yard are also under remote control.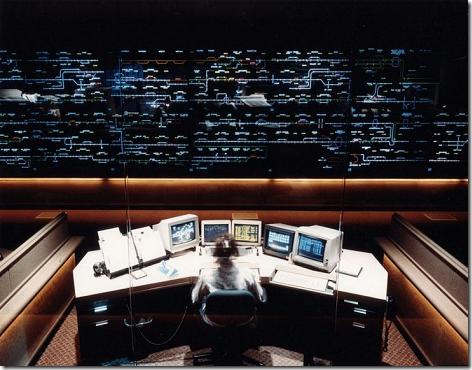 When is why you see signs like these around the yard.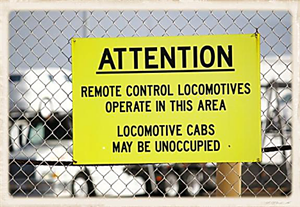 Leaving the Golden Spike Tower we drove around to the backside of the Bailey Yard to get a side shot of the East Hump and the cars rolling down the hill.
Later, after driving around town for a while, we stopped off at Fort Cody, a combination Buffalo Bill Cody Museum and Gift Shop.
After it was right up the road to have dinner at King Buffet, a Yelp 4 Star Chinese Buffet.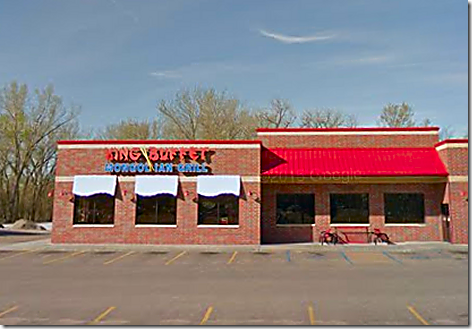 And the reviews were certainly accurate.
A good selection, with small portions, constantly changed out, so everything was fresh and hot. Our favorite Hot & Sour Soup was really good, as well as the iced tea.
Even better, with our 10% Senior discount, it was only $7.50 each, plus our drink. If we were going to be here longer, we'd certainly go back.
But tomorrow night's Italian.
With our stay here in Nebraska, we can now mark that state off on our 'RV'd In' list, leaving only Kansas, which we'll be able to mark off on Thursday.
Of course, that still leaves Hawaii, which we'll do as soon as I can find a dry route.
---

Thought for the Day:
"Giving money and power to government is like giving whiskey and car keys to teenage boys." – P.J. O'Rourke