Daily Archives:
September 21, 2019
All the comments on yesterday's blog about Climate Change, or the lack thereof, were all very positive, with some nice comments. Thanks.
On a sad note, we got news this afternoon that my cousin, Anna Jean, had died today.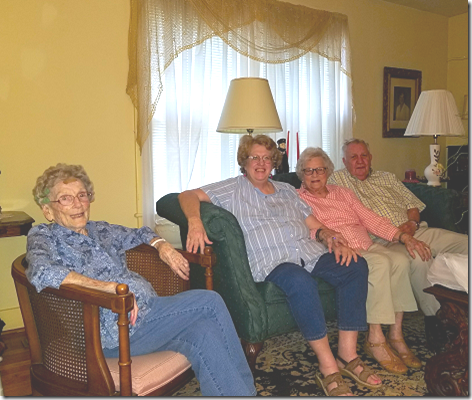 That's her on the right., along with Jan, Anna Jean's sister Margie, and Margie's husband Walter, back in 2017 when we were visiting up in Athens, Alabama. She was always so vibrant it was hard to believe that she turned 93 this past July.
Although I always though of her as my cousin, I was kind of curious exactly what relation she was to me. In working it out, she was my mother's mother's sister's daughter.
And according to Google that makes her my First Cousin Once Removed.
She will be missed.
Jan and I headed out a little before 1pm to have lunch at Floyd's Cajun Seafood. where we were meeting up with long-time friend/client Theresa. She was going to drop off her HP Envy laptop so I could upgrade the hard drive.
Her model came with a 200GB SSD drive, small by today's multi-TB standard hard drives. But SSD drives offer almost instant boot-up and faster access to programs.
So, because she's running out of room on her 200GB drive, she wants to upgrade to a 1TB SSD.
So I ordered a new one this evening from Amazon which should be here on Monday. In the meantime I'll copy all of her data off onto an external HD for safety purposes, and then try to make a System Image of the old drive to then reinstall it onto the new one. We'll see how it goes.
Our daughter Brandi is out in San Diego with her BFF Shawna having a Girl's Weekend, with I think, a little work involved. Sounds like a lot of fun.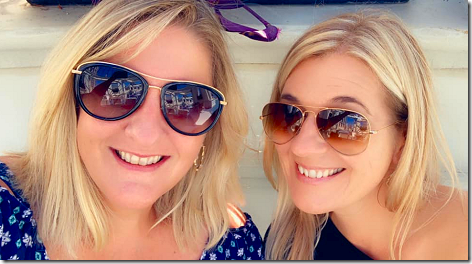 That's Brandi on the left with Shawna on the right.
Not much on the schedule for tomorrow, so maybe a nice quiet day.
---
Thought For The Day:
According to the New York Times, as of 2018, approximately 15 people per year have been killed with AR-15 type rifles since 2007. But in the same time frame approximately 13 people a year have been killed by VENDING MACHINES!
BAN ASSAULT VENDING MACHINES!
or
You can have my Snickers when you pry it from my cold, sticky fingers.
ada