Daily Archives:
September 24, 2019
I talked to our travel agent, Chantelle Nugent, this morning, want to get some ideas about tours, dinner cruises, and sightseeing opportunities for our upcoming NYC visit the first part of December.
As I mentioned before, we saw most of the basic stuff in 2009 so we find some new stuff. I did look to see if they had a Duck Boat Tour. We taken these all over the country, from Seattle, to San Francisco, Lake Tahoe, Washington, D.C., and even the Wisconsin Dells.
And they do have one in NYC, but unfortunately for us, it stops for the year on September 30th.
Bummer.
Chantelle also said she'll be in NYC in November and will be staying at the Hotel Riu Plaza, the same one we'll be staying at a few weeks later, and she said she'll be checking it out for us.
Jan and I went to the 2pm showing of Downton Abbey this afternoon, and I must say, I really liked it. Although, unlike Jan, who's watched every episode of TV series two or three times, I had just picked up enough of the show as Jan watched, so that I had no problem following the movie, There's a lot of drama, comedy, intrigue, and upper-class snarkiness.
Maggie Smith, as the grande dame of Downton, is hilarious, with many quips that are laugh-out-loud funny.
Since Nick's new book hasn't come out yet, I thought I'd recommend another favorite book of mine. Or maybe favorites, since there are four books in the series so far.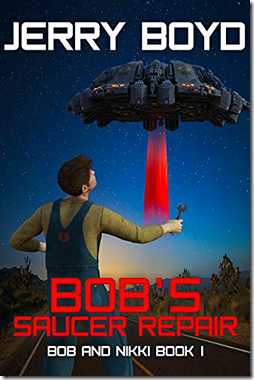 Basically, a guy comes home and finds a beautiful alien girl trying to repair her flying saucer in his garage. With a lot of interesting ideas and funny situations, it's a really fun read. Just gloss over the fact that alien flying saucers use antifreeze for coolant as well as hydraulic fluid.
But a lot of twists and turns keeps it very interesting. Even Jan loves them.
A Great Deal at $2.99, or free under Kindle Unlimited.
When our office manager came into work on Monday she found a furry refugee trapped in her office.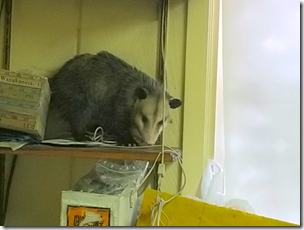 It had fallen through the ceiling, and since the door was closed, he/she/it was trapped. So it proceeded to ransack her office, knocking things off of shelves, tearing down blinds, pulling wires of the baseboard and walls, and of course, peeing/crapping everywhere.
When my client asked me why I didn't come help me catch the opossum in a cardboard box. I told him I charged extra for Possum Wrangling.
He had no comeback for that.
For The Guy Who Has Everything: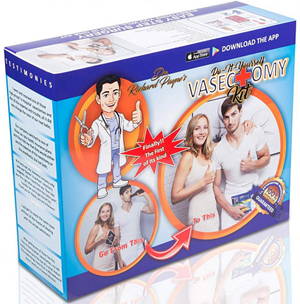 Your very own DIY Vasectomy Kit.
It even has testimonials to the efficacy of the product.
Our company switched to one of those cut rate health insurance and they told me they would either pay the expense of the vasectomy or the anesthesia, but not both.
But this one was my favorite.
I went and received one of those high-priced "hospital" vasectomies and after all the expense and trouble, all it did was change the color of our next baby.
Actually it's an empty box to give someone as a prank gift. They have an entire line of these.
---
Thought For The Day:
'Do not go where the path might lead, but instead go instead where there is no path and leave a trail.' – Ralph Waldo Emerson
fgdfg