Daily Archives:
September 10, 2019
After a coffee-laced morning, Jan and I headed out about 1pm for lunch at Snooze up in Webster
Now usually I get the 3 Egg Classic breakfast like this.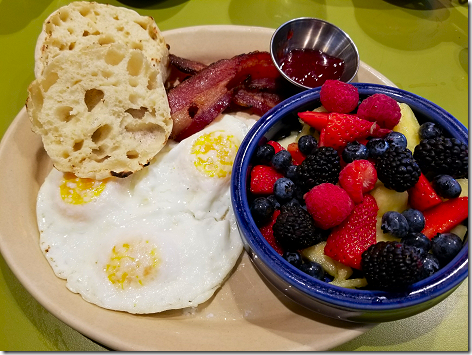 But now that we're doing the Keto thing, mine now looks like this.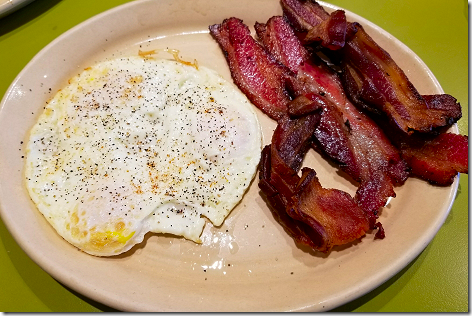 All Bacon, All The Time.
While we were there, our waiter noticed my jar of Carolina Reaper Powder sitting on the table, and said, "Good stuff!".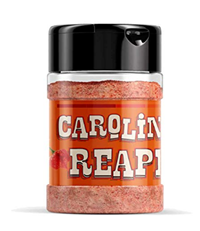 And then asked if I had tried the hot sauce they had there. When I said no, and that I didn't normally like most hot sauces because all I taste is vinegar. And then he handed me this.

And it was delicious! Probably because vinegar is the 5th ingredient rather than the 1st.
And as soon as Jan tasted it, she said, "We have to buy some." A little Googling said that our local HEB carried it. So it was on our shopping list for today.
Leaving Snooze, we drove over to the local Wal-Mart for a few things. Then it was back over to my client's to pick up an Amazon order that came in this morning. And then right next door to HEB for some Lola Savannah coffee, that they were out of, and of course, the YellowBird Serrano Sauce, which they did have.
After that we headed over to the Seabrook area so Jan could find some earrings at Burke's Outlet. And it was while I was waiting there that I discovered a problem.
I had lost my phone.
So we back-tracked. The last time I remembered actually using it was at the Wal-Mart, so we headed back that way, with a quick stop at my client's to see if I left it there.
With no luck, it was on over to Wal-Mart. But no luck at the Customer Service desk.
Unfortunately Jan didn't have her phone with her, so I couldn't check my account on WheresMyDroid.com. So we headed back to the rig and as soon as I went online with the app I was shown this.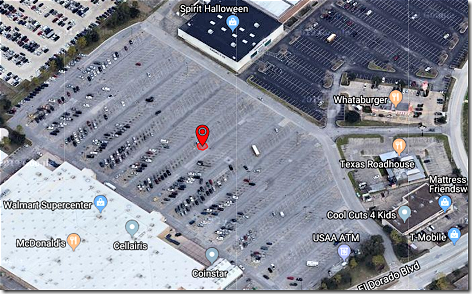 It was still out in the Wal-Mart parking lot.
So the first thing I did was to lock the phone and take a photo with the front camera, and got this.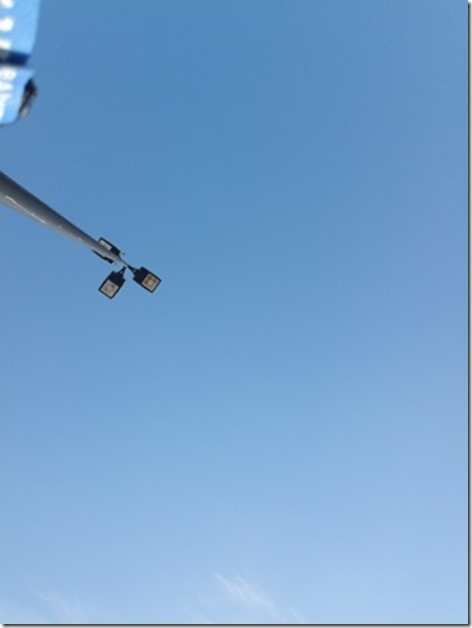 So it was lying face up in the parking lot. If that photo had come back showing only black, I could have then take a photo with the rear phone.
If the phone had gotten away, I could have also completely wiped, or even 'bricked' the phone. And it wouldn't have made any difference if they had turned it off or removed the battery. As soon as it was powered up any time later, the lock/wipe/brick would have taken place immediately.
So Jan and I headed back up to the Wal-Mart to scour the parking lot. I know it was near a light pole since it showed up in the photo. And after a few minutes of walking around, I found this. Based on where I found it, I suspect I just didn't clip it into my belt clip. The Otterbox case I used sometimes keeps it from locking in firmly.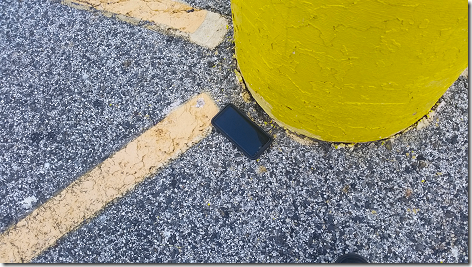 Best $4.99 I Ever Spent . . .
Since we always have decaf coffee in the evening, I had set it up in the Mr. Coffee before we left for lunch. So coming home, as we got off I-45 I used the Switchbot remote to start it brewing, and just as we walked in the door, the pot beeped that it was done. And it smelled great as we came in the rig.
I love it when a plan comes together.
---

Thought For The Day:
"It's discouraging to think how many people are shocked by honesty and how few by deceit." – Noel Coward
dgfhg