Daily Archives:
September 12, 2019
Today was Black Bear Thursday so we were on our way by about 1pm where we've both have gotten hooked on their 'Super' salads.
This time Jan went with their Taco Salad, staying Keto by eliminating the taco shell and the refried beans.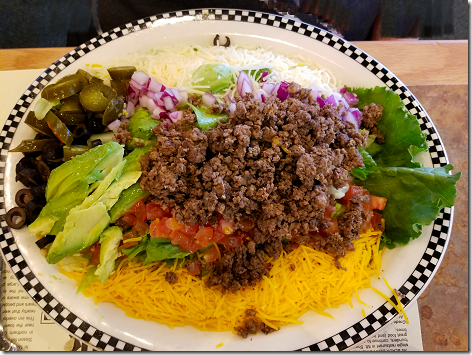 But adding their delicious Bacon Ranch dressing.
I once again got the Bacon Cheeseburger Salad, also with the Bacon Ranch. But unlike last time, I asked to have the burger done medium. Last time it was so well-done it was actually crunchy and hard to even cut. But they got it perfect this time.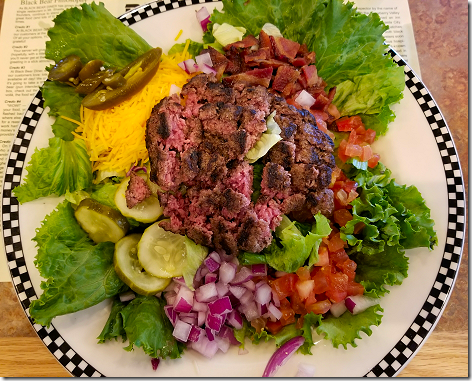 But even well-done their hamburger meat is delicious, both mine and Jan's taco meat.
Next up was a stop at the big Flagship HEB store over on Hwy 96. We've never been to this location before, but we were looking to bulk up our Lola Savannah coffee stocks. We were running low on our nightly Decaf ration, and also wanted to see if they had any additional flavors, and we hit the jackpot.
So besides the Decaf, we got a pound of Chocolate Crème, Almond Delight, and Cozy Winter Night.
The Chocolate Crème is pretty much self explanatory, while the Almond Delight has a blend of almonds, coconuts, and dark chocolate, so pretty much a candy bar. And Cozy Winter Night has butterscotch and caramel flavors accentuated with flavors of cream, vanilla, nutmeg, and cinnamon.
One flavor we didn't get was Lunch with Elvis, a blend of peanut butter and banana flavors, mimicking Elvis' favorite sandwich. And one of mine too. Of course to make it perfect you'd need to get some mayonnaise flavor in there somewhere.
You just can't beat a peanut butter, banana, and mayonnaise sandwich. On white bread, of course.
Found out this evening that Brandi, et. al., have a new dog.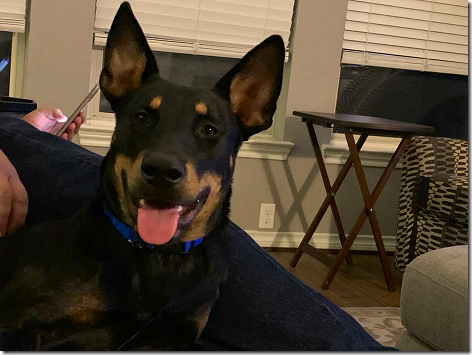 Jack, a shelter pup, is part Doberman, part Rottweiler, and has made himself right at home with the two other dogs, and the cat.
---
Thought For The Day:
With the rise of self-driving vehicles, it's only a matter of time before there's a country song about a guy's truck leaving him.
dfss