Daily Archives:
September 19, 2019
Apparently, in some parts of Houston, it's 3 feet (and more) high and rising. It's been raining pretty steadily for 3 days now, and it seems now that there's heavy flooding all over the Houston area.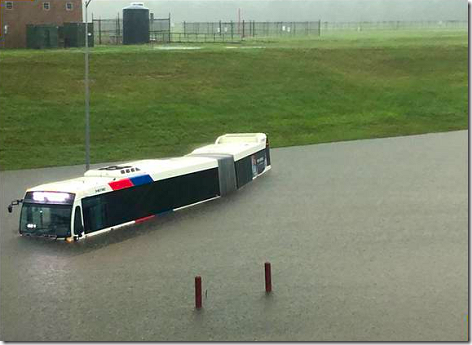 A local TV weatherman reported that over 43" of rain had fallen northeast of Houston towards the TX-LA border in the last few days.
And although we had some high water in the ditches yesterday, by this afternoon it was just about gone. It was still raining lightly when we left about 1pm for lunch at Yummy Yummy's.
We haven't seen the sun in the last few days, and it hasn't gotten above 75°. Not exactly cold, but good enough for a couple of bowls of Yummy's Hot & Sour Soup. And those 'couple' of bowls were both for me.
Jan had to get her own.
Jan and I have gotten hooked on an new BBC series (at least new to us), but unfortunately, it's a short term addiction.
Don't know how many of you are Rowan Atkinson/Black Adder/Mr. Bean fans, but back in 2016 – 2017 he did a short-lived series based on 75 novels by Georges Simenon.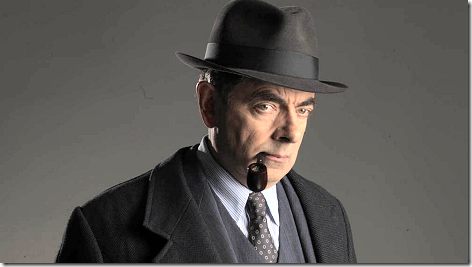 Atkinson plays Jules Maigret, a world-weary, measured and insightful detective, and are set in Paris in the 1950s.
And by 'short-lived', they did two 2-hour episodes in 2016, and then two more in 2017, with unfortunately, no more forthcoming.
The four episodes are presently showing on Ovation, and are well-worth your viewing, whether you're a Rowan Atkinson fan or not. The cinematography is great, and it turns out that Atkinson is as good a serious actor as he is a comedy one.
Check it out.
Ardis, one of our Viking Bunch, sent over some photos she found on her phone that show our antepenultimate Taste of Germany meal on our Viking Cruise.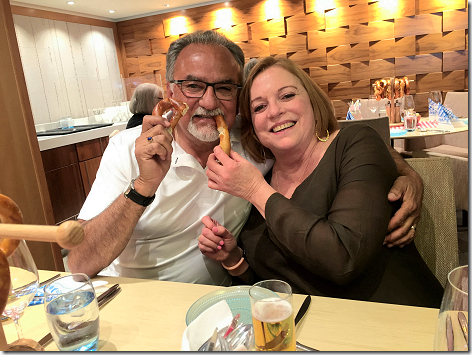 Jim and Deb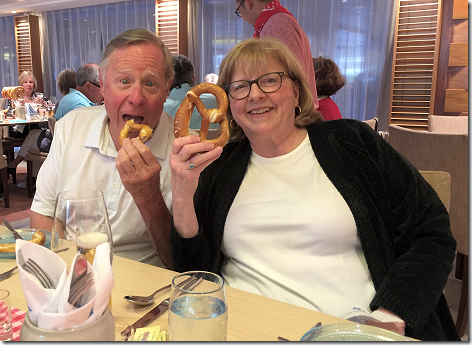 Mike and Melissa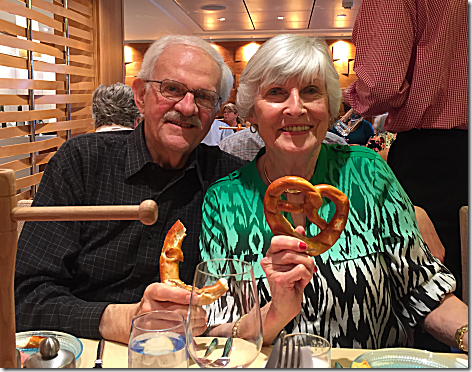 Ardis and Larry
Ardis said that they're doing another Viking cruise next March, this one from Paris to the Swiss Alps, and wanted to know if we were interested in accompanying them. But as I mentioned before, Jan said she would beat me to death with my own arm if I ever took her on another 8-10 hour flight.
And even our 3+ hour flight to NYC in December is pushing it.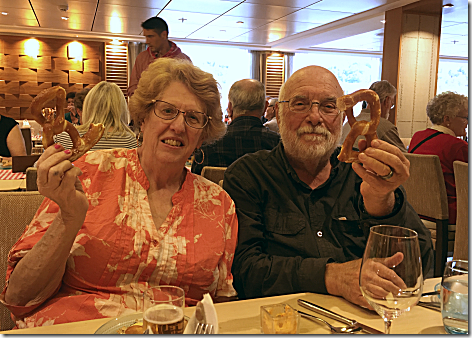 Yours truly and my Sweetie
---
Thought For The Day:
It's discouraging to think how many people are shocked by honesty and how few by deceit. – Noel Coward
fghfgh