Daily Archives:
October 3, 2019
About 1pm I went outside and crawled under the rig to see if I could find a way to actually reach the oil filter adapter with my hand. After I removed the filter, which I keep in place to keep the bugs out,

I improvised a prop to raise me up using the rig's extension ladder and a couple of cushions, and this let me reach up and touch the adapter.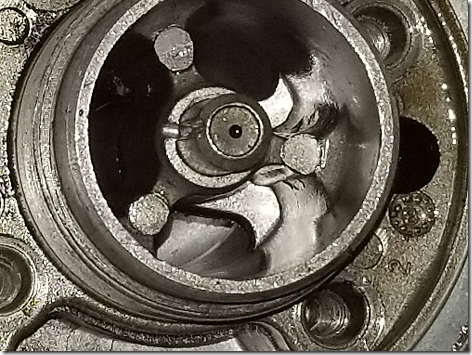 But no matter how I pushed, pulled, or twisted the center shaft, nothing moved. I even tried to push in the small pin thinking it might release something, but no luck with that either.
So while I was under there I put in a call to Rush Truck Center up in north Houston to see if I could talk with someone there. But unfortunately all the service people were in a big meeting, but the guy took my number and said someone would call me back. So I just put the filter back on to wait until I hear from them.
I called Rush because they're the only place that's ever worked on our rig. Everything else I've been about to fix. But when our engine just up and quit on us coming back from Yuma and going through Las Cruces. We got towed in late in the afternoon, and the next morning they quickly discovered that it was only a bad sensor on the fuel line. Of course while we were there I had some other stuff done as well.
So I'll wait to hear back from them before I do any more.
For dinner we headed out about 4pm to Los Ramirez Mexican, and then stopped off at the SR99 H.E.B. for some of our favorite Lola Savannah coffees, and then it was home for the night.
---
Thought For The Day:
Pride breakfasted with plenty, dined with poverty and supped with infamy. – Benjamin Franklin
fsdf