Daily Archives:
October 21, 2019
I want to thank everyone for the many congratulations on my 4 month quest to get our rig's oil filter adapter off. I think I got more congrats than I got on my recent birthday. Which is fine since get the adapter off actually means more to me than turning a year older.
I did talk to Cummins today about what kind of gasket sealer, if any, I should use and was told that I could use any that was oil resistant.
So if the weather holds, I'll be back under the rig to hopefully wrap this up.
This weekend we booked our 13 day Alaskan cruise for next September 1 – 13. I also separately booked our 7 day pre-cruise stay that Best Western – Pioneer Park for about half of what we would have paid if we had stayed at the Holland America Westmark Hotel. In fact, what we saved between the two hotels was enough to cover our airfare up and back.
Normally I probably wouldn't booked this early, 10 months out, but the cruise on our same ship, right before ours, is already completely sold out. So we didn't want to lose out. Plus by booking this early we get a bunch of extra perks like $600 ship credit that can be used for extra excursions, gift shop, etc.
We're still looking at our air flights, trying to figure out the best deals. Kind of surprised that HL doesn't have something in place, but apparently not.
When we did our Alaskan cruise in 1998, our first night in Alaska, we stayed at the Alyeska Resort down in Girdwood about 30 miles from Anchorage.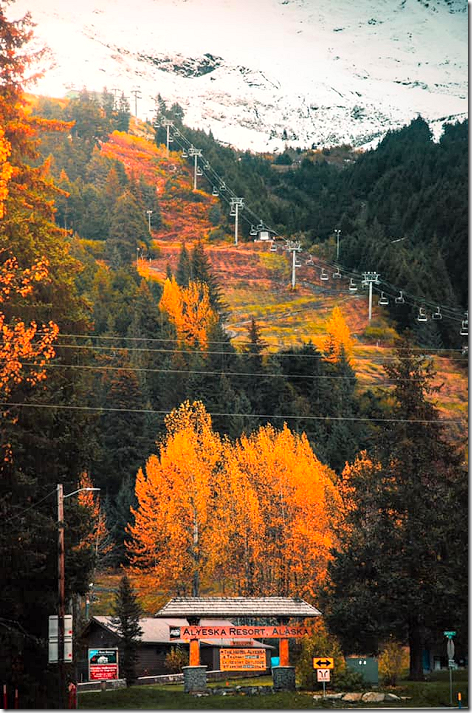 Early in the morning we took the ski lift up to the top of the mountain to check it out, and also make reservations for the 4 Star restaurant at the top. It was a beautiful, warm, sunny day, and the workers were putting out tables, chairs, and umbrellas for the guests.
I guess no one thought to check the weather, since when we came back up about 6 hours later, it looked like this.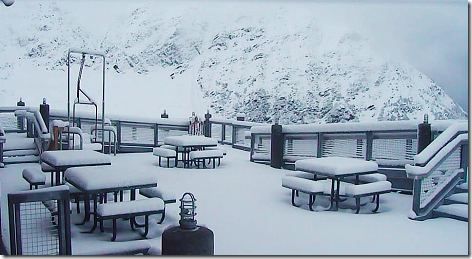 And this was the middle of May.
---
Thought For The Day:
Your secrets are safe with me. I'm usually not listening.
asdf