Daily Archives:
October 4, 2019
Last night after I finish and posted the blog, I was Googling Cummins 8.3 350 ISC Oil Filter Adapter, and I came up with this.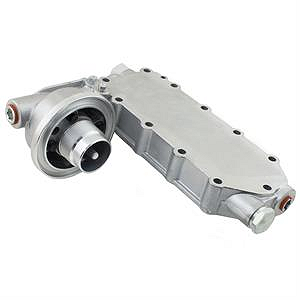 dfg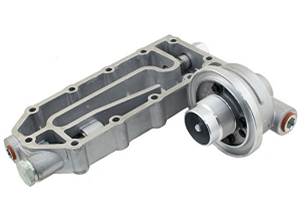 I'm beginning to think that this may be what I have rather than the one that Cummins says I have, i.e. the one that has two pieces and the gasket. Note that this one is one solid piece, and has the center shaft like mine does.
But if mine is really like this one, why does it still have the 4 bolts when they serve no purpose if it is just one piece?
I've Got A Bad Feeling About This.
So have I been tilting at the big rotary fan on this all this time?
So have I been lead down the floral avenue?
To try and figure it out I guess my next step is to get back under the bed and see if I can see anything from up top. Then Monday I'll be back on the phone to Cummins to see if I cant track down what's going on.
I spent most of today trying to get a new Bixolon Label Printer hooked up to our UPS WorldShip computer. UPS sent them out about a week ago and said to connect them up and then send the old one back ASAP.
But after following all the instructions, loading the drivers from the CD, and configuring the settings, it didn't work. But after going through 4 people that didn't speak English, or at least any English I could understand, and then getting relayed through 3 more operators, I finally got someone who told me how to configure it to almost work.
He said the problem is actually with the WorldShip program itself, and they shouldn't have sent the printers out this early. So we'll have to wait for the final update to get everything working.
But on a high note, I did finally fix the networking problem I've been fighting for the last week. Turns out that it was a setting in the Administrative Tools/Services folder called Functional Discovery Resource Publication. The default is for it to be set to RUN, but it was OFF. And turning it ON fixed the problem.
Don't know why it wasn't turned on like it should have been.
It's often the simplest things.
---
Thought For The Day:
The number of hunting licenses sold in the United States last year was greater than the ten biggest armies in the world combined.
MOLON LABE
ghdg