Daily Archives:
October 5, 2019
First off I want to thank everyone for the many Happy Birthday wishes. It almost makes up for the fact that I'm a year older.
And for the record, that 'year older' leaves me at 71.
And it also leaves Jan and I in our yearly 'sweet spot'. At least that's what Jan calls it. This starts the 20 day period where we're the same age. Then on October 25th, Jan's birthday, she's back to being a 'cradle robber', and I've got my own personal 'Cougar' back.
I spent most of the day trying to make sense of this HP laptop that I'm trying to upgrade for a client/friend. It came with a 256GB SSD and she's running out of room, so I was going to put in a 1TB one.
So after checking online I ordered a new WD 1TB SSD because that's what the manual said it used. But when the drive came in and I finally got the laptop case open, which like most of these, is more of a Chinese puzzle than anything else, I found something I didn't recognize.
The SATA drive bay was empty, and the SSD located under the battery looks like nothing I've ever seen. It's not SATA, M.2, or NVMe, the 3 types of SSD drives. So the only thing I figure it's some kind of proprietary drive that's HP only. But it looks like I can buy a new cable and mount to let me use the SATA drive that I've already purchased. So right now I'm waiting on a price quote on those items.
About 4pm Jan and I headed up to Webster to have my Birthday dinner at that Saltgrass, rather than the Kemah Boardwalk one from last Saturday's Anniversary dinner. And we went to this one for two reasons.
It's closer, and it's cheaper. I noticed last weekend that pretty much every steak on the menu at the Kemah location was $2 more that the same steak at the Webster one.
Good enough for me.
We both got our usual Wedge Salads, along with Jan's 9oz. Center-Cut Filet and my 16oz. Ribeye. All just as delicious as usual, and $4 cheaper.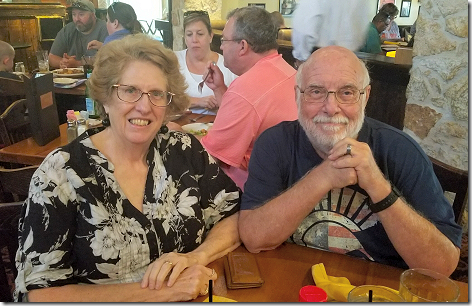 Then after a quick Costco stop we got home about 6:30 after a very nice day.
And once again, thanks to everyone for the birthday wishes.
---
Thought For The Day:
Global Warming: Britain Braces for 'Coldest Winter in 30 Years'
fjfjh