Daily Archives:
October 2, 2019
The day that I'm crawling back under the rig and trying to get a handle on my oil leak problem.
First thing I'm going to do is remove the oil filter and see if there is any way to prop myself up and reach the bare adapter. But if not, I'm going to put it all back together so I can crank up the engine and dropt the rig all the way down. Then I'll have to take it all apart again and see if I can reach it then.
Hopefully, but we'll see.
Jan and I have started to think about our next big trip. Right now we've got a long weekend trip up to Kingsland penciled in for November where we'll do an early Thanksgiving get-together with all the kids and grandkids. We plan on taking the rig up, leak or no leak fixed.
Then of course, we've got our long weekend in NYC the first weekend in December. Really looking forward to that one.
2020 starts off with a rig trip back to Alabama to visit friends in Montgomery and Birmingham, and family in Athens Probably a couple of weeks long after the first of the year.
Early June will be a rig trip for a big family (including Jan's sister Debbie and all her brood down from Illinois) get-together, which will be a week or so in Gulf Shores, AL before Jan and I take the rig on down to Florida to visit Nick and Terry Russell.
But now we're talking about another big trip. This time north to Alaska.
Or maybe north back to Alaska.
We did an Alaskan cruise in 1998, and then spent 5 months workcamping in Fairbanks in 2008. But we've always wanted to go back.
So now we're looking at two different possibilities. First would be 12 day Land/Sea cruise starting in Fairbanks and ending up in Vancouver, BC. But we would fly up to Fairbanks four or five days early to spend some extra time there.
Or we might just forget the cruise all together, fly up to Fairbanks and spend a couple of weeks all on our own. But we'll still working out the details.
Stay tuned.
Jan just finished up Nick's latest book, Dead Romeos this evening and said it's great. She said it grabs you from the very first sentence.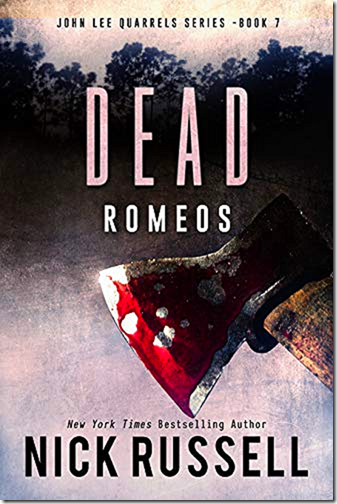 Get your copy now.
---

Thought For The Day:
Against stupidity the gods themselves contend in vain – Friedrich Schiller
fgh