Daily Archives:
October 12, 2019
Yesterday started out on a downer when I got hit with a short episode of BPPV (Benign Paroxysmal Positional Vertigo). What was different this time was that I was cold, clammy, and nauseous. So rather than go into work, I went back to bed. And, luckily, by later in the afternoon, I was feeling much better.
Which was good since we were supposed to go the Alvin Opry this evening and with several of our favorites performing, we didn't want to miss it. So we headed out about 4:30 to first have dinner at our usual spot, Monterey's Mexican Restaurant.
While I got my usual Chicken Tortilla Soup, of course, spiced up with some of my Volcanic Pepper Flakes,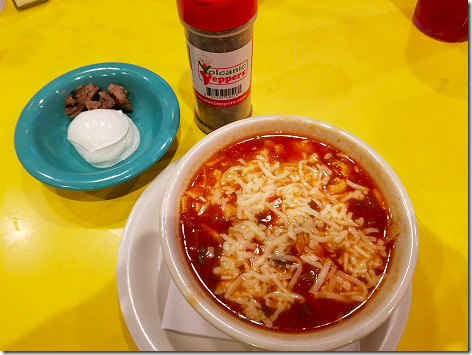 Jan tried something new with their Stuffed Avocado with Fajita Beef, along with Charro Beans and Rice.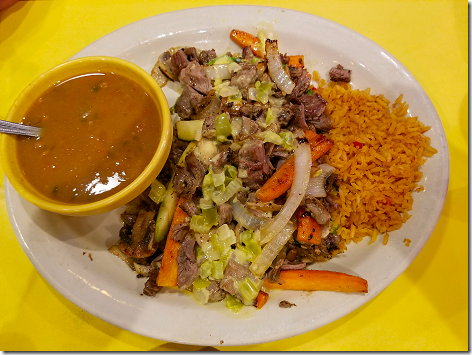 The food was as delicious as usual, but we were disappointed to find that out that the Monterey's up in Pasadena, where our long-time friend Julie worked, had closed. So now we'll have to track her down. We were told that she had moved over to a nearby Casa Ole, so we'll have to check it out.
We got to the Opry about 6pm just as the doors were opened for the 7pm show. Early yes, but necessary if you want a good seat.
We were there to see a couple of long-time favorites, Mary Dooley,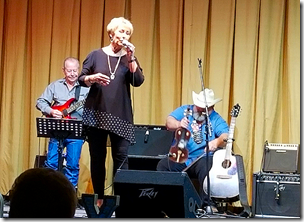 and Jan's country crush, Tony Booth.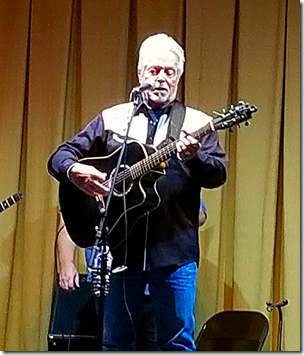 We've been watching both of them perform for almost 25 years now.
But we also to hear someone I've heard of, but never seen before, Dennis Ivey,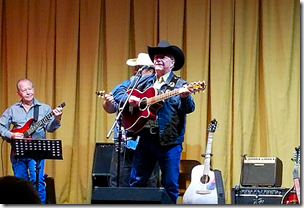 who was really great, especially the two old-time gospel songs he did.
But actually the real standout was a total newcomer to us, Tori Vourganas. Tori's been performing since she was 11, and it shows.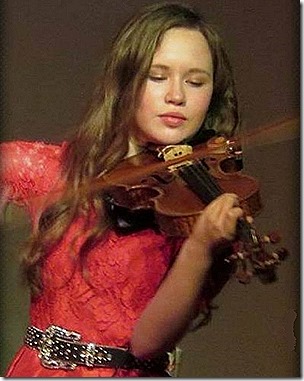 She did her first number on the mandolin, but then pulled out her fiddle. And boy can she play.
It always interesting to watch how a house band reacts to a performer they hadn't played with before, especially this band, most of whom have either been session musicians or touring band members for some of the biggest names in country music. And when they started nodding at each other during her performance like they did for Tori, you know you're hearing someone special.
Her second number on the fiddle was the classic, "Orange Blossom Special". After she tore through the intro and the first verse, she paused for the rest of the band to do a few riffs each. That's when I saw Keith Junot, a well-known top Cajun fiddler, lean over and say something to Tori. She kind of looked surprised and said something back to him, and he smiled and nodded.
And when the verse came back around to them, they really wound the the place up. Tori started out with the stock theme, and then Keith repeated it, with a little something extra thrown in. And off they went, back and forth, faster and faster.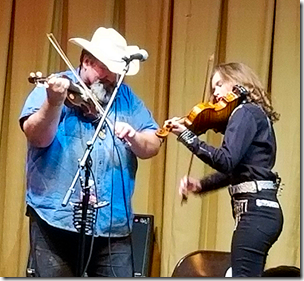 Tori matched Keith lick per lick with more variations every time. It was Dueling Banjos, but with fiddles. And when they finally gave up, they got the biggest hand of the night. It probably would have been a standing ovation, But with the median age of this crowd, jumping to their feet to ovate is just not in the cards.
And then on the second set, Tori showed she has another talent as well.
This girl can sing. She closed out her performance by belting out, and I mean 'belting' the old Marty Robbins' classic, "Don't Worry 'Bout Me".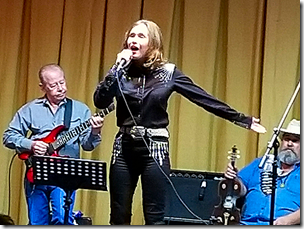 She has a hell of a range, jumping two octaves at the end.
WOW!
During her intro, the M.C. said she had just graduated high school this year and enrolled in college at University of Houston-Clear Lake.
Since I worked there for 10 years before we started RV'ing, and I didn't think they had any kind of music program, I went over to talk to her after the show.
And it turns out that she's not only talented, she's smart. She's going for a double Master's Degree in Biology AND Chemistry, and wants to do research.
Well, I guess if Mayim Bialik, Amy Farrah Fowler on Big Band Theory, can have a PhD in Neurobiology, and Brian May, lead guitarist for Queen, can have a PhD in Astrophysics, then Tori can get a double Master's in Biology and Chemistry.
WOW, again.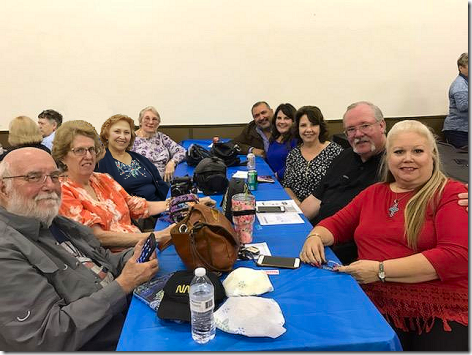 A really great night, even though it didn't get off to a great start.
---
Thought For The Day:
If you haven't realized you are in Clown World then you've spent too much time at the circus.
asdfad