Daily Archives:
October 17, 2019
Jan and I spent most of the day, on and off, talking about our proposed Alaskan Cruise-Tour next September. Or maybe I should call it a Tour-Cruise, since it starts in Fairbanks and ends up on Vancouver, B.C.
We have been trying to figure out many extra days we want to spend in Fairbanks before the cruise actually starts. We kept going back and forth on whether we wanted 4, 5, or 6 extra days. So I made an executive decision that we'll just do 7 days extra,.
We had originally planned on staying at the Pike's Landing Lodge, but since the cruise actually starts with a 1 one night stay at Holland America's hotel, The Westmark, we decided to just stay there the entire so we wouldn't have to move twice.
We had already planned to get an Inside room, based on our last Holland America Alaskan cruise back in1998. We had a outside Partial Seaview room which meant we could look out and see the feet of the people walking on the Promenade Deck and the sky behind them. Plus we were almost never in the room during the day anyway.
But on this cruise we've got our choice of two different Inside rooms, one Regular and one Large. The only difference is the size, with the Regular one at 151 sqft and the Large at 233 sqft.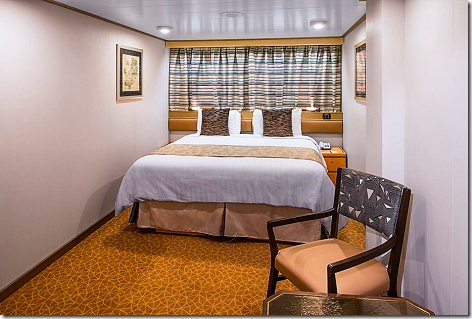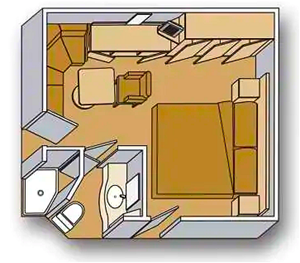 And since the price increase is only $65/person, we're going with the bigger one.
The next decision was about our meals. On our 1998 cruise, we only had two choices, Early Seating at 5:45pm and the Late Seating at 8pm, and a pre-assigned table.
But we really liked the Open Time/Open Seating for meals on our Viking Cruise. Of course, within a couple of days we had met up with a great bunch of people and ended up sitting with the same people at the same table anyway. But it was our choice of friends and our choice of table.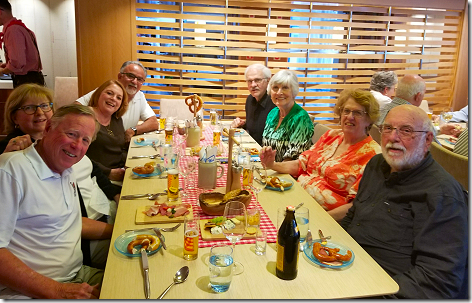 But now we have a 3rd choice, Open Time/Open Seating just like Viking. It's the same menu, just in a different dining room.
So that's what we chose.
---
Thought For The Day:
Coffee Does So Much For Us And Asks For Nothing in Return.
adfad