Daily Archives:
October 23, 2019
We've now got our deposit in on our Alaskan Cruise, and we've got our hotel reservations made for our pre-cruise week in Fairbanks. All that's left now is our flights and our car rental in Fairbanks.
I had mentioned that we were getting an inside room, and found that for an extra $65 we can get a larger inside room, bigger from 155 sqft to 233 sqft. But our great travel agent, Chantelle Nugent, found out that for an additional $25, for a total of $90, gets us a slightly larger, large room up on a higher deck, Deck 8, or the Navigation Deck.

Much better than our original inside room which is down on Deck 1, the very bottom deck. Kind of like being in Steerage on the Titanic.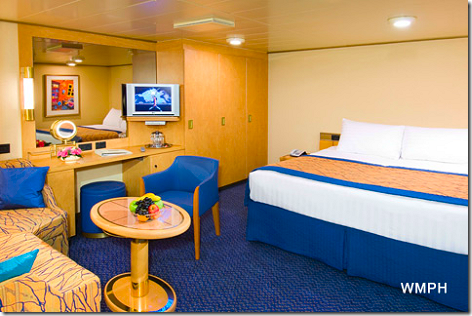 Very nice room. Chantelle always takes great care of us.
One thing Jan and I were happy to see is that PMJ (Postmodern Jukebox)) one of our favorite groups will be performing on HAL Alaskan Cruises during 2020. But I haven't yet been able to find out what ship they will be on, or if they will be moving from ship to ship. But hopefully we'll be able to see them.
Check'em out here.
Also this morning I booked our NYC Holiday Dinner Cruise for Sunday, December 8th, while we're in NYC.

We paid extra for a window table, though that doesn't seem to mean we'll actually be right next to the window, just at a table BY the window, with four other diners.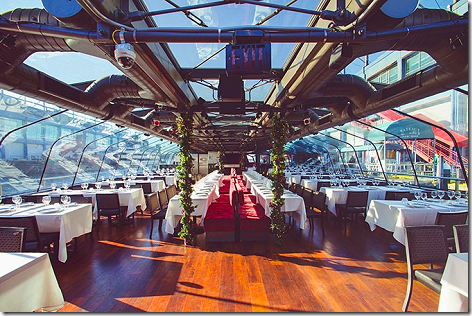 But close enough, I guess.
One thing that always ticks me off, especially when it involves my money. We paid extra for the window table, and also a photo on the ship. But when I went to pay online with my card, I found, in addition to the $28.64 in NYC taxes, there was a $63.33 ADMINSTRATION FEE, and an $8.99 MARINE FEE, I guess because it's a boat.
WTH
Finally, looking forward to 2021 we're looking at maybe doing a cruise out of Galveston taking in the Mayan ruins of Tulum from Cozumel and Chichen Itza from Progresso. And any more we can cram in.
After that we'll probably be cruised-out.
But you never know.

---
Thought For The Day:
Remember, Big Brother (or Alexa) is always listening. Everything you say can and will be used against you.
ghdg