Daily Archives:
October 7, 2019
I was on the phone with Cummins Tech Support again this morning, trying to get some more info on uncertain oil filter adapter. The tech did send me a parts breakdown of the adapter for me to look over.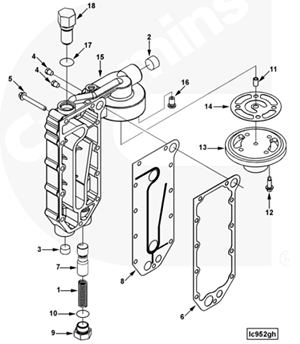 I'm still trying to nail down exactly which one I have, the one with the gasket or the one without. So either tomorrow or Thursday I'm going to check out out under the bed to see if I can get a better look at things. The problem is that the filter is located pretty much directly under the 'firewall' area that separates the bedroom from the engine compartment, so it's hard to get a good view of it. In fact I may have to actually climb out on the engine to see anything.
In the meantime, if I don't get any more definitive info, I'm going to do another cleaning oil filter seating ring, this time using a brass rotary brush that our friend Butch Williams gave me a while back.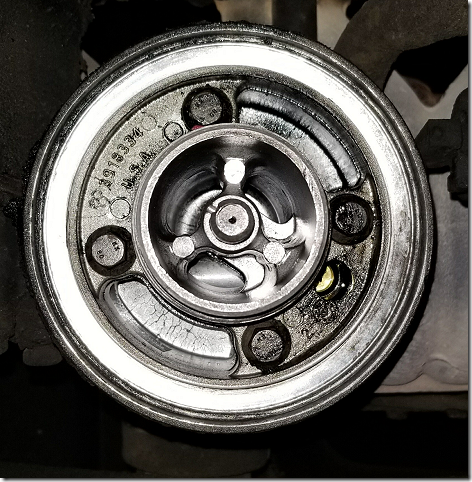 Back before I was chasing the whole 'gasket' thing, Cummins thought there might be burnt oil filter gasket residue in the ring. When I took a look I did find some and scraped it off. But I was unable to get the last bit off because, since I didn't know what the filter housing was made of, aluminum or steel. And if it was aluminum, I didn't want to scratch it. where it would seal even worse.
But now I know it's steel, I'm to keep at it until I've gotten it all off. Then we're see how it goes on our upcoming trip up to Kingsland in mid-November.
Looks like we've finally got a winter cold front coming in later this week with High's in the low-70's and Low's in the 50's.
Very, Very Nice. And about time.
---
Thought For The Day: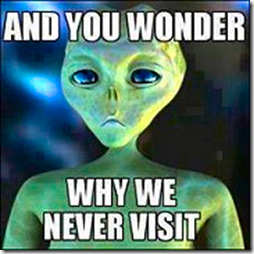 adfd