Daily Archives:
January 11, 2020
We had our usual great time at the New Alvin Opry last night, catching up with old friends, and seeing some really good performers for the first time.
And of course, we always start an Alvin Opry visit with dinner at long-time favorite, Monterey's Little Mexico Restaurant. We had been eating at the one in Dickinson for over 20 years, but it was flooded out in Hurricane Harvey in 2017 and it's never reopened, though they keep saying they will. So we have to make-do with the one in Alvin whenever we're up this way.
Jan, as usual, got her fav Fajita Beef Stuffed Avocado.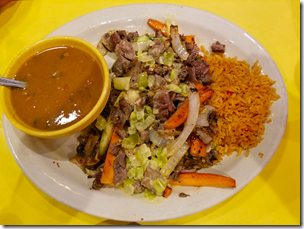 while I got the same Chicken Tortilla Soup that I've getting for 20+ years. Yes it's that good.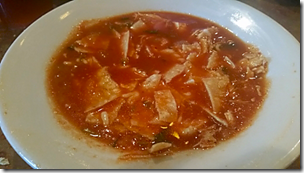 Thought the Opry show didn't start until 7pm, we got there when the doors opened at 6, since unless you have a large group with a reserved table, it's the best way to get a good seat.
I had planned to get some photos, but when I got there I found that the battery was dead in my Panasonic Lumix camera, so no pics this time.
I talked to Cummins yesterday, trying to get some more info on replacing the oil filter adapter head again on our rig, and I had two questions for them
First off, should I use any kind of sealer or coating on the gasket. Last time they told me to use some Permatex Ultra Seal Black, which is what I did. But this time they said no sealer. Make up your mind.
And when I pulled the adapter head originally, I didn't see any trace of any. So no sealer this time.
I also wanted to talk about the torque setting on the 4 bolts that hold the head in place. The docs say 212 in-lbs, which is a little over 17.6 ft-lbs. And last time, I had no trouble tightening the bolts down with just a little effort.
However, when I first took the bolts off, I had to use a cheater piper on the end of my ratchet to even break them loose and unscrew them. So I was asking about possibily tightening them down a little more.
And while they wouldn't come right out and give me a value, they did seem to think it would be OK to bump it up a bit.
I did a test run this afternoon to see if I could get under the rig to access the filter without raising the rig up on the levelers, and it looks like it's doable.
So that's my tomorrow afternoon.
Ok, I'm Confused. (no snickering)
A couple of times a week, Jan and I have some whipped cream with our morning coffee, and of course, we have to share with Miss Karma. In fact she's very insistent about it.
For a while now we been using the Great Value (WalMart's brand) Sugar Free version, like this.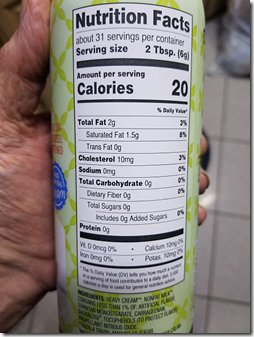 But the other day they were out of this, so I was looking at some of the other selections. (What the heck is Fat-Free Whipped Cream anyway? Isn't that kind of contradiction of terms?)
So I picked up a can of the GV Regular Whipped Cream, like this.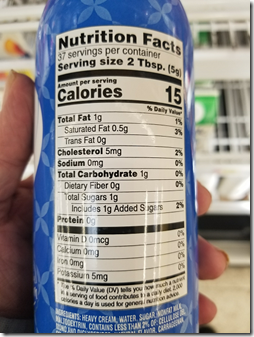 And when I compared them, I was confused to find that that Sugar-Free version had 5 more calories per 2 Tbsp. than the regular one.
OK, so you take the sugar out and replace it with Sucralose (Splenda) and the calories go UP?
How exactly does that work?

---
Thought For The Day:
First, the Impossible Burger and now this.
Isn't Modern Science Wonderful!
asdfasd