Daily Archives:
January 26, 2020
I give up. It's going to be Cummins' problem now.
As you probably can figure out, I've still got my oil leak. But once again, things have changed. The leak was less than it was when we took the rig up to Kingsland last November, but more that it was originally when we would only lose about a gallon every 300 miles or so.
So it seems obvious that the leak is related to this gasket, because every time I fool with it, the amount of leakage seems to change, but I just haven't figured out yet.
But other than that, it was a very nice drive since overnight the 80% chance of rain forecasted for tonight dropped to 10% overnight, and we ended up with a nice sunny day in the 60's.
And since nothing came loose, broke, or fell off, it was really a nice drive. Except for the pesky oil leak, of course.
So after we get back from Alabama on the 16th, I'll get on the phone with the Cummins dealer up north of Houston and see about scheduling a visit. I guess Jan and I will be hotelling it for a while while that's going on. As long as we're ready to go by the first part of June, we'll be fine. That's when we've got our big family get-together over in Gulf Shores AL and then Jan and I will head on over to Florida to visit Nick and Terry, and a couple of other old friends.
We got up to the Buc-ee's in Katy about 1pm and a few minutes later Brandi, Lowell, and Landon showed up to take us over to Little V's Vietnamese Bistro for lunch. We were all looking forward to it since we hadn't been there for about a year. Brandi and Lowell used to live about 5 minutes from Little V's so we ate there often, but since they moved a good bit further away, not so much.
Both Jan and I tried new dishes, with Jan getting the Chicken Skewers,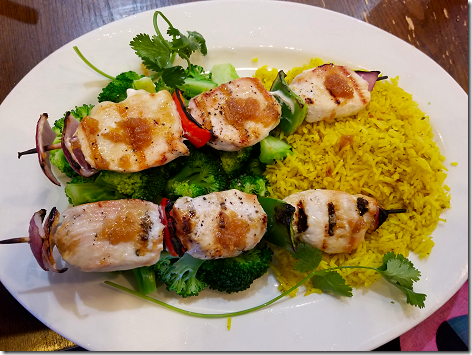 while I got the Shaking Beef Plate.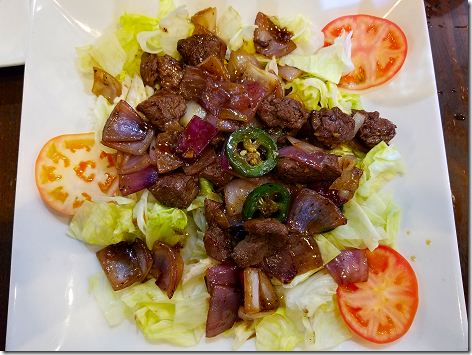 I don't know what they do to make these chunks of beef so tender, but they literally melt in your mouth. Delicious.
Finally back at the rig, I topped off the oil and we headed home, getting parked in our site about 5pm
Site Sweet Site.
---
Thought For The Day:
NEVER in the history of calming down has anyone ever calmed down by being told to calm down.
ghdgh