Daily Archives:
January 2, 2020
Yesterday we finally got a chance to try out Jan's favorite new Christmas gift, a Ninja Foodie Digital Air Fryer Oven.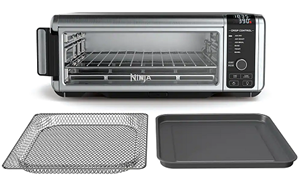 The Ninja folks don't make it easy to keep track of their Foodie line, what white 5 different appliances, including a blender.
Our daughter Brandi has one and loves hers, so I got Jan one too. And it works great for us, since, although it's larger than the Toaster Oven it replaces, it folds up out of the way for storage, leaving us more counter room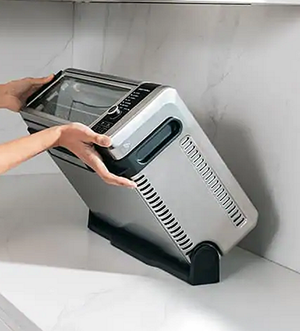 But just in case she might decide she doesn't like it, we're keeping the old Toaster Oven around for a while, anyway.
The first thing Jan wanted to do with the Oven was to Air Fry some chicken wings, or in this case, drums. Brandi told us they were fantastic and gave us her really simple recipe.
1 Tbsp. of Baking Soda
1 Tsp. of Salt
2 Tsp. of Pepper
Apparently the Baking Soda is the secret to really crispy wings. Or at least, so says the Internet . . . and Brandi
Here's what our Foodie looks like folded up.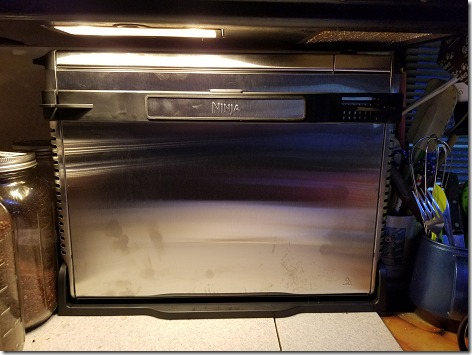 And here it is folded down and ready to use.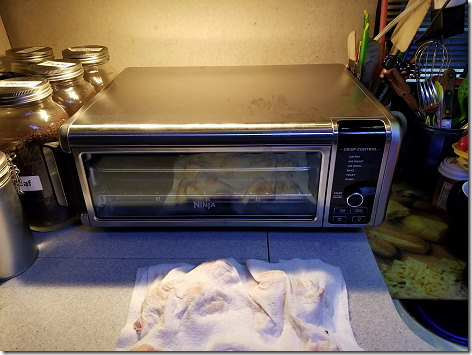 Out in front I've got the drums drying in paper towels, since they're supposed to be as dry as possible.
After tossing the 10 drums in the breading,I arranged on the grill, not letting them touch.
I set the oven on Air Fry at 375° for 13 minutes and then turned the drums over. Then it was another 13 minutes at the same temp. Then I raised the temp to 420° for about 6 minutes and they were done.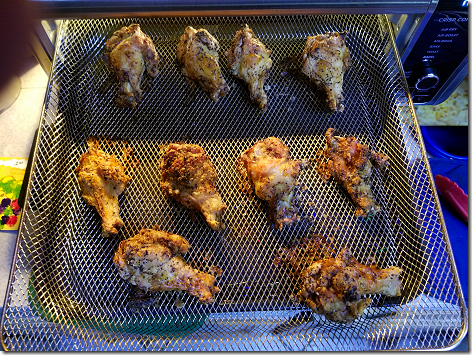 And they were really crispy, crunchy, delicious. The only real problem was that we wanted more. We didn't do anything special as far as sauce, just a small dip of Kraft's Bacon Ranch Dressing, our favorite.
I will however do things a little differently next time. The 1 Tbsp. of Baking Soda really wasn't enough to thoroughly cover the drums, and the 1 Tsp. of Salt was a little too much. So I'll try 2 Tbsp. of Baking, 1 Tsp. of Salt, and 4 Tsp. of Pepper next time to see how that works.
Jan's cold is doing a lot better, especially since she's sleeping so much better, due to what she calls "That Wonderful Stuff." And that would be NyQuil NIghtime Severe Cold Medicine.
We got some good news today on the storage shed front. Rob, the park owner, said it was OK to put one up, and that we could put it right at the end of the patio where I pictured it.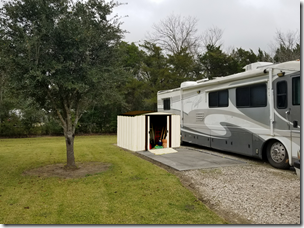 But before we do this I want to get back on the rig's oil leak problem.
---
Thought For The Day:
For All You Nerds –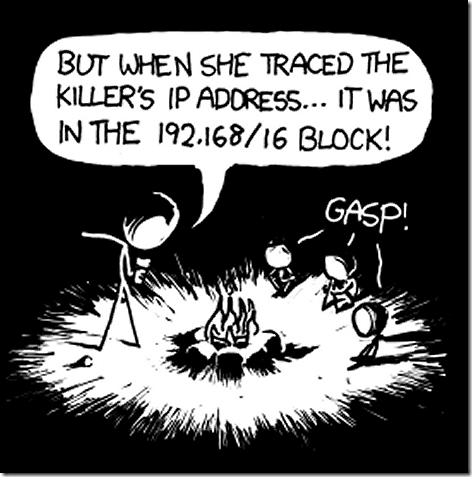 asdf