Daily Archives:
January 25, 2020
This morning the Weather Channel was calling for 40 to 50% chance of rain tomorrow so I was outside this morning doing some more prep work for tomorrow's test drive up to Katy, puiting away some things both in the rig and the truck.
But when I checked later in the afternoon, the chances were up to 60% and heaviest early in the morning when we'll be trying to get unhooked and hooked up and on the road.
Later, about 2pm, Jan and I headed over to Yummy Yummy's for lunch. Delicious as usual, with both Jan and I enjoying the boiled shrimp, which was pretty much all I had.
Coming home we stopped of at our storage room to drop off our toaster oven and pick up our BrakeBuddy for our upcoming test drive. Jan's decided that our new Ninja Foodi Air Fryer Grill is a good replacement for the toaster oven so we can reitre it now.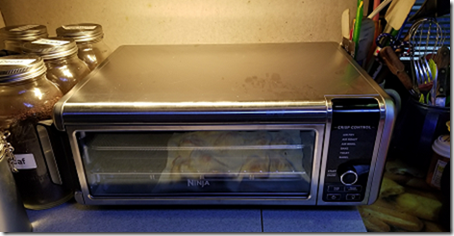 When I checked the weather again after we got home, and now the rain chances were up to 80%. Not good.
So after Jan and I talked it over, our test drive is up in the air, and we'll see what it looks like tomorrow. We weren't planning to head our until about somewhere in the 11am to 12pm time frame, so we'll have some time to decide what we're going to do.
But either way we planned on going up to Katy to meet up with Brandi, Lowell, and Landon for lunch. so if necessary we'll just drive up in the truck.
So now we're looking at Tuesday, Thursday, or next weekend for our test drive. We'll just have to see how the weather goes.
---
Thought For The Day:
Life is not a fairy tale. If you lose your shoe at midnight, you're probably drunk.
dfgh