Daily Archives:
January 31, 2020
Since I worked yesterday, I was off today, a 3 day weekend. I went in yesterday because my client wasn't going to be in at all and didn't want to leave the office manager alone all day.
I spent this morning making the hotel reservations for our upcoming Alabama trip. Necessary because we'll be driving the truck rather than our oil-leaking rig. In addition I also canceled our RV Park reservations for that trip.
Although back in the late 1990's and early 2000's, I used to drive straight through to Birmingham every month to visit my mother, we'll take things a little slower this time and spend the night in Slidell LA along the way. Actually both ways, going and coming back.
Since we liked our stay at the La Quinta in Luling back last November, I found a good deal on one there. As I mentioned in the blog at the time, I found out that, although I thought I got a good rate through Expedia, I found that when I re-upped for more days, the in-house rate was $10 cheaper. And several readers told me that they often found the same thing.
So I checked online first and then called the La Quinta directly. But this time the Expedia rate was about $8 cheaper than the in-house one. And I did ask for the best rate.
And I found the same thing with our Extended Stay Hotel in Montgomery and our Day's Inn in Athens. I didn't yet make our coming home reservation since that date is not nailed down yet.
About 1:30 we headed up to Webster with our first stop at Snooze for lunch. We were interested to find that they had new menus, and a few new dishes. But the one that caught my eye was their Bacon But Different.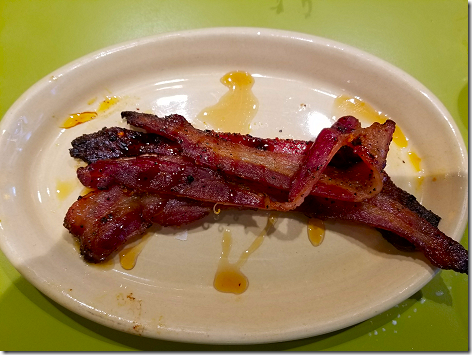 It's an order of their Tender Belly Bacon that's rubbed with brown sugar, cayenne, chili flakes and drizzled with black pepper maple syrup.
Sweet AND Spicy, and really delicious, and I'll definitely have it again.
After our Snooze, I dropped Jan off to get her toesies done while I drove on over to the Ace Hardware in Friendswood. My computer chip key for our 2004 Dodge Dakota is showing its age. And its circuitry.
The rubber coating covering the parts on the key fob was beginning to wear off, exposing a corner of the circuit board. So I figured it was time for a new one.
I checked with both O'Reilly's and AutoZone and they both said I had to go to the dealer. But when I checked with the local Dodge dealer I was quoted $245 for a new key.
Ouch!
But I remembered from a year or so ago that Ace Hardware advertised that they could duplicate computer keys, so off I went.
And once I got there I was testing my new key in about 15 minutes. And even better it was only $80. A nice savings.
And they said all Ace Hardware's around the country should be able to do this.
Tomorrow night we're heading up to Pearland for Tony Booth's Birthday Bash, an annual Country Music Get-Together with a lot of old friends.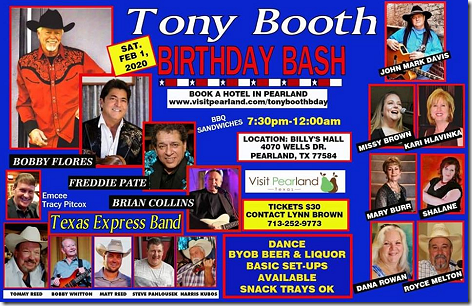 Really looking forward to it. And because it goes so late there'll problaby be little or no blog tomorrow night.
---
Thought For The Day:
Have you ever wondered if the dollar bills in your purse or wallet were once in a male stripper's thong?
I bet you're wondering now.
Have a nice day!
gfdgf